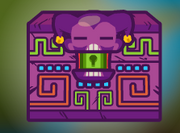 In Bloons Monkey City, a Wild Pack is a type of Monkey Knowledge Pack that grants all Wild Cards. They have more chance of Rare and Legendary Cards, which grant 80 and 250 points respectively. It is not as rare as Ancient Packs, but is still only found in either special offers that specially allow the buying of Wild Packs with NK Coins, or in special prizes, such as from Bounty Cards.
Points
[
]
These packs always contain one Rare Wild Card inside, the other three cards have a certain probability to occur:
57% Common
30% Uncommon
11% Rare
2% Legendary
10% Bounty
All Bounty cards will always have a chance of 90% a card of

2 and 10% chance of the super rare "Monkey Secret".
How to get
[
]
It is rare to get, and is not always available in the shop; only available in the shop in special occassions. They are also available to get from the following: