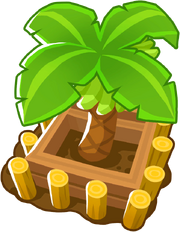 | | | |
| --- | --- | --- |
| " | Bananas are worth 25% more cash per bunch. | " |
| | ~ Official BTD6 Description | |
Valuable Bananas is the second upgrade of path 2 for the Banana Farm in Bloons Tower Defense 5 and Bloons Tower Defense 6. It makes each banana or box of bananas worth 50% more cash in BTD5, and 25% more in BTD6. In BTD5, it costs $3400 on Easy, $4000 on Medium, $4320 on Hard, and $4800 on Impoppable. The total costs are $4675 on Easy, $5500 on Medium, $5940 on Hard, and $6600 on Impoppable. In BTD6, this upgrade is immensely cheaper, at $680 on Easy, $800 on Medium, $865 on Hard, and $960 on Impoppable.
The upgrade, while being cheaper, also only increases the value of bananas collected by 25%. This is still a very large buff, as in BTD6 it only costs 1/5 of what it was in previous titles (in Normal Difficulty), while having 1/2 of the impact.
Do not try to get this too early in the game, as it is expensive to buy.
It is recommended to only buy this upgrade after purchasing the Banana Research Facility, or if the player wants to purchase Tier 3-4 Path 2 upgrades.
Try to get this as early in the game as possible, as Monkey Banks are considered the best money source in the game.
It is recommended to buy this upgrade if the player wants to purchase 3/x/x or higher, because it makes the top path generate much more money.
Community content is available under
CC-BY-SA
unless otherwise noted.