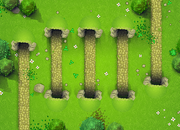 Tunnels is a new Expert Track in Bloons TD 5 Mobile. It is unlocked at rank 42 (50 in Deluxe). This track was added to Deluxe on August 26, 2013, and the original version on August 28, 2013.
Grassy, rocky, green track. With 4 tunnels that will bloons pass through it, hence its name. The time for the towers to attack the bloons will be considerably short, as the bloons will go to the next path when they reach a tunnel. Just like Monkey lane's tunnels, MOAB-class bloons float over the tunnels, and are visible when doing so. This makes them considerably easier to pop, as towers can target them when they are above the tunnels.
Tips and Strategies
Edit
Main article: Tunnels/Strategies
Achievements
Edit
| Name | Awesome Points | Image |
| --- | --- | --- |
| Tunnels Bronze | 10 | |
| Tunnels Silver | 25 | |
| Tunnels Gold | 50 | |
Monkey Money Rewards
Easy
Medium
Hard
Impoppable
First Time
$300


$600




$300

$400


$800




$500

$600


$1200




$800

$1200

Completed
$60


$120




$120

$80


$160




$200

$120


$240




$320

$480
Token Rewards

| Easy | Medium | Hard |
| --- | --- | --- |
| 4 | 5 | 6 |
This track shares the aspects of Monkey Lane and Phase Portals:

The tunnels resemble Monkey Lane's tunnels.
Bloons that enter a tunnel will go in a curve line and enter the tunnel next to it. It is visible when a MOAB Class Bloon enters a tunnel.

This track is presumedly placed in Expert difficulty despite it's long length because half of the track is underground, hence the name.
The graphical scheme in this track appears similar to Bloons Monkey City's Grass Terrain graphical scheme.
There is a very simular track in BMC and BMCM for Grass Terrain.
This is by far the longest Expert Track in BTD5 with a RBS of 60 even longer than some beginner tracks.
This might be the easiest Expert Track in BTD5 due to its long length and straight lines, making it good for Spike Factories and Spike-O-Pult Monkeys. The other candiate is Clock because it has one entrance and exit, no tunnels, but shorter.
Community content is available under
CC-BY-SA
unless otherwise noted.