| | | |
| --- | --- | --- |
| " | Tier 5 Monkeys are the most powerful in the game. You can only have one of each path in play at a time. | " |
| | ~ Popup Message when purchasing a Tier-5 upgrade for the first time. | |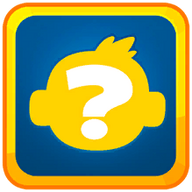 Tier 5 Upgrades are the fifth tier of upgrades in BTD6. Unlike tier-4 upgrades and below, only one Tier 5 upgrade of each path per tower can be bought per player (with the exception of the Crossbow Master if the Monkey Knowledge "Master Double Cross" is purchased and active). Tier 5 Upgrades were initially the final and most powerful upgrade tier before the release of Paragons.
Tier 5 upgrades are generally similar to their Tier 4 upgrade, but significantly more powerful and often having a special functionality unique to them. If the Tier 4 upgrade had an activated ability, the Tier 5 upgrade will typically have an improved version of it, and sometimes that is the only noticeable difference from Tier 4. The upgrade portraits and upgrade icons for each Tier 5 upgrade are hidden behind a golden lock until they are unlocked through gaining enough Experience Points for any tower and purchasing them.
All Tier 5 Upgrades
[
]
There are 22 towers in the game, each with three unique Tier 5 upgrades. Therefore, there are currently 66 Tier 5 upgrades in total in BTD6. All of these Tier 5 upgrades can be found for each of the towers in the game.
Note: These tables do not include special towers in the game called Paragons, to avoid spoilers until the page itself is clicked on. Plus, Paragons are on a tier beyond Tier 5, technically a merge of all Tier 5 upgrades of the same tower type.
Primary Monkeys
[
]
Military Monkeys
[
]
Magic Monkeys
[
]
Support Monkeys
[
]
Achievements
[
]
Mega Monkey

FIRST RELEASED: Initial Release

Description: Deploy a tier 5 monkey tower

---

Rewards:


50
Bugs
[
]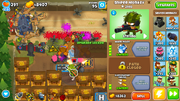 Before Version 2.0, there was a bug where Support Chinook could be used to duplicate moveable Tier 5 towers by manipulating the Lock and Drop setting, as featured in several old BTD6 videos.
When a Tier 5 upgrade is locked, in most occasions being due to maxing out in numbers of a specific Tier 5 tower, the upgrade description for the locked Tier 5 will be blank instead of giving a valid description of why the upgrade is locked.

This has not been patched yet, although from version 4.0 the description for Monkeyopolis says "Requires Banana Farm" if Monkeyopolis has not been bought yet and there are no Banana Farms (excluding Tier 5 ones) next to the Village.

Occasionally, the Monkey Knowledge "Master Double Cross" can cause a bug where the second Crossbow Master is not able to be purchased.
Gallery
[
]
Trivia
[
]
The in-game appearance of Tier 5 towers generally does not change if the tower is crosspathed, but with a few exceptions:
Some of the Tier 5 upgrades have very basic names, often containing words like "Super" and "Master."

There are five Tier 5 upgrades that start with "super". Ironically, none of them come from Super Monkeys.
There are four Tier 5 upgrades that contain the word "master". Only three of them contain just the word "Master" not within another word.

The descriptions for some Tier 5 upgrades do not directly refer to what has been improved about the tower, instead alluding to how powerful the upgrade is. For example, the upgrade description for Sky Shredder reads "The bloons will wish they had never come."
Earning all Insta-monkeys of a single tower type including all upgrade combinations of Tier 5 towers will reward a special black border around the tower.
Tier 5 Upgrades are not the first to only allow one tower of the same upgrade type. Monkey Storm Beacon from BTD3 and BTD4 have this game mechanic too.