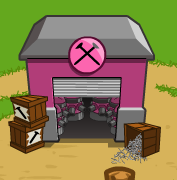 Tack Research Center is the Specialty Building for the Tack Shooter. It costs

500 to purchase and increases Bomb Tower cost and upgrades by 5% (Boomerang Throwers if it's in the Mobile version).


The bonuses from Tiers 3 and 4 do not stack. The bonus from Tier 4 is simply an upgrade of Tier 3.
There are six 0/0 Tack Shooters inside the garage.
There are boxes of tacks outside and one of them has opened, and all of the tacks fell out.
The description says Tack Towers, but their name is Tack Shooters.
This is one of the few Specialty Buldings where it costs 500 to purchase the building, the others being the Dart Training Facility and Spikes R Us.
The level 3 and 4 effects of the Tack Research Center prove extremely useful for the Tack Sprayer, as it has a popping power of 16 (1 per tack) by default, increasing its popping power to 32 (2 per tack).
Community content is available under
CC-BY-SA
unless otherwise noted.