Swamp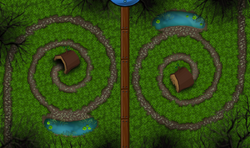 is one of the 17 tracks in Bloons TD Battles and Bloons TD Battles iOS . It was added in an update of the game, coming at 22nd December 2013 (check date?).
Overview
[
]
The spiral like feature makes it great for tack shooters and ice towers. Also 3-1-cannons are effective.
Place Ninja Monkeys near the exit and not in the center. Otherwise new bloons will block them fighting against outside bloons.
Tracks/Maps in the Bloons TD Series