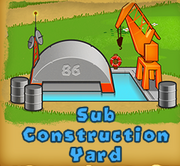 Sub Construction Yard(or Monkey Sub Bay) is a Specialty Building for the Monkey Sub. It costs

600 to purchase it and it increases the cost of Ninja Monkeys and their upgrades by 5%. Before it can be purchased, 250,000 Bloons must be popped to unlock this specialty building as the Monkey Sub requires 250,000 pops to unlock.
Tips and Notes
Edit
The third tier upgrade can greatly increase your firepower, especially if used next to a Monkey Village with Monkey Fort or if you are only using Monkey Subs.
The fourth tier upgrade is very helpful for rounds where there are large concentrations of Camo-Regen Bloons, which can help your other towers pop them faster.
Community content is available under
CC-BY-SA
unless otherwise noted.