Not enough images!
There are not enough images on this page to sufficiently complete this page or section. You can help by expanding it by uploading some images related to the article's subject(s).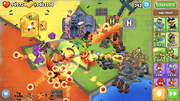 Sub-Towers are inherited versions of standard Towers that are deployed from any existing offensive/defensive unit (Towers and Heroes). They were first introduced in Bloons TD 5 with the introduction of the Monkey Engineer. Examples of sub-towers include Sentries and Marine. Most sub-towers only last for a limited time and will automatically disappear after some time.
An important part of Sub-Towers is that they can inherit range-based tower buffs from their parent but cannot inherit Alch buffs or Overclock buffs. An exception is made for Etienne drones, which can be affected by Overclock buffs but not Alchemist buffs. Overclock can be targeted onto interactable sub-towers but will generally be wasteful due to the limited time duration of sub-towers.
In Bloons Adventure Time TD, sub-towers make appearance, but are mostly spawned from Warrior Bubblegum (Candy Archers, Gumball Guards, Candy Copters, and Gumball Guardian), Commander Cassie (M.A.F., Sidewinder Strike), Marceline (Skeleton archers), and Ice King (Snow monsters). Select weapons and trinkets may allow characters to summon additional sub-towers. Select allies (Moe, Party God) may summon additional units.
This section is incomplete. You can help by expanding it.
See Also
[
]