Specialty Buildings are ways to specialize in any one tower type in BTD5. The buildings decrease the cost and upgrades of a tower by 5% and buff it in certain ways but increase the cost of another tower and its upgrades by 5%. You must first purchase a plot of land for

250 then you may build a Specialty Building on top of it.
While you may purchase as many Specialty Buildings as you want, you can only have one active at a time. You can activate or deactivate purchased Specialty Buildings by clicking on the "Activate" or "Deactivate" button appearing over the Specialty Buildings "shop".
The first upgrade reduces the price by 5%, while the second one mostly increases the firerate of the tower by 10% (second upgrade costs the same as the first). The third upgrade is special and is different for each tower and costs more than the first two upgrades. The fourth upgrade is only available on portable versions of Bloons TD 5.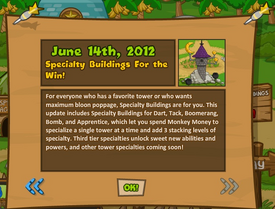 Total Costs
| Bloons TD 5 | Bloons TD 5 Deluxe | Bloons TD 5 iOS |
| --- | --- | --- |
| $44100 | $49850 | $80500 |
Trivia