| | | |
| --- | --- | --- |
| " | You have a Special Agent. These are one-use items that can help you win. Some items are towers when placed, others are special powers that are activated. You can see how many Special Agents you own on each Special Agent button. | " |
| | ~ Description after playing a track and owning a Special Agent for the first time | |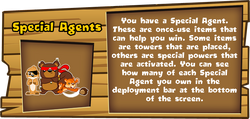 Special Agents are special towers or abilities that were introduced in Bloons Tower Defense 5 and appear in Bloons Tower Defense 5 Deluxe and Bloons Tower Defense 5 Mobile. Unlike regular towers, they cannot be found in normal game play. Instead, you have to pay Monkey Money to hire them. To hire them, click on the tent with the camouflage pattern on the homepage. Each agent has its own power and can only be used once before it must be purchased again. Special Agents can also gain permanent upgrades called Special Agent Pros once purchased a certain amount of times.
Watermelon Spitter - 100

It fills its cheeks with watermelon, and then attacks with a rapid fire burst of seeds. The pro version greatly reduces its cooldown time (which is the time required to eat another melon), and also shoots a whole watermelon every second shot.

Monkey Farmer - 40

It doesn't attack but picks up bananas from Banana Farms within its range. It will attack as a pro, which will shoot collected bananas along the track to slip passing bloons in a similar way to the Ninja Monkey's Distraction effect.

Mad Snowman - 60

It attacks by throwing snowballs at bloons, which pop before freezing. It disappears after 10 rounds. The pro version attacks faster, has an ability that involves throwing snowballs at hypersonic speeds for 10 seconds, and the agent disappears after 20 rounds.
Bloons TD 5 Mobile/Bloons TD 5 Xbox One Exclusive Special Agents

[

]
Radadactyl - 100

It attacks by swooping around a nest, popping nearby Bloons. The pro version also swoops bloons and can blow them away in a similar way to Monkey Apprentice's Summon Whirlwind.
All special agents included in the standard Bloons Tower Defense 5 on Ninja Kiwi's website are also available here. However, the mobile version also has the Banana Farmer available to players.
Gallery
[
]
Trivia
[
]