For the rounds in Bloons Adventure Time TD, see Bloons Adventure Time TD Rounds.

Rounds (also known as levels, waves, or stages) are the levels in the BTD series. Each round gets harder as the player progresses. The Red Bloon Equivalent (RBE), premiering in BTD4 and then later disappearing in BTD6, shows how many pops to finish a round. In Bloons Tower Defense 4, the range of RBE is 2881116. Pre-Round Comments may appear before a round.
Bloons TD 6 Rounds
[
]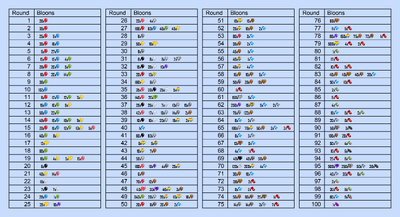 In Bloons TD 6, most game modes start at Round 1, but there are exceptions. In all Hard Difficulty modes, excluding Impoppable Mode and CHIMPS (which start at Round 6), rounds start at Round 3. After round 81, M.O.A.B. Class bloons will become slightly tougher and faster each round, and money per pop decreases (Factored into the following table).
Rounds follow the same pattern across all games, with the exceptions of Alternate Bloons Rounds (accessible after beating Hard Difficulty) and Apopalypse Mode (accessible after beating Military Only in Medium).
For the rounds in Alternate Bloon Rounds, see Alternate Bloons Rounds#Rounds.
For the rounds in Apopalypse Mode, see Apopalypse Mode#Rounds.
First instances of Bloon types are in bold.
| Round | Health Cost | RBE | Description |
| --- | --- | --- | --- |
| 1 | 20 | 20 | 20 Red |
| 2 | 35 | 35 | 35 Red |
| 3 | 35 | 35 | 25 Red, 5 Blue |
| 4 | 71 | 71 | 35 Red, 18 Blue |
| 5 | 59 | 59 | 5 Red, 27 Blue |
| 6 | 57 | 57 | 15 Red, 15 Blue, 4 Green |
| 7 | 75 | 75 | 20 Red, 20 Blue, 5 Green |
| 8 | 92 | 92 | 10 Red, 20 Blue, 14 Green |
| 9 | 90 | 90 | 30 Green |
| 10 | 204 | 204 | 102 Blue |
| 11 | 78 | 78 | 6 Red, 12 Blue, 12 Green, 3 Yellow |
| 12 | 80 | 80 | 15 Blue, 10 Green, 5 Yellow |
| 13 | 169 | 169 | 50 Blue, 23 Green |
| 14 | 145 | 145 | 49 Red, 15 Blue, 10 Green, 9 Yellow |
| 15 | 151 | 151 | 20 Red, 15 Blue, 12 Green, 10 Yellow, 5 Pink |
| 16 | 152 | 152 | 40 Green, 8 Yellow |
| 17 | 48 | 48 | 12 Yellow Regrowth |
| 18 | 240 | 240 | 80 Green |
| 19 | 141 | 141 | 10 Green, 4 Yellow, 5 Yellow Regrowth, 15 Pink |
| 20 | 66 | 66 | 6 Black |
| 21 | 230 | 230 | 40 Yellow, 14 Pink |
| 22 | 176 | 176 | 16 White |
| 23 | 154 | 154 | 7 Black, 7 White |
| 24 | 43 | 43 | 20 Blue, 1 Green Camo |
| 25 | 210 | 210 | 25 Yellow Regrowth, 10 Purple |
| 26 | 207 | 207 | 23 Pink, 4 Zebra |
| 27 | 535 | 535 | 100 Red, 60 Blue, 45 Green, 45 Yellow |
| 28 | 138 | 138 | 6 Lead |
| 29 | 260 | 260 | 50 Yellow, 15 Yellow Regrowth |
| 30 | 207 | 207 | 9 Lead |
| 31 | 406 | 406 | 8 Black, 8 White, 8 Zebra, 2 Zebra Regrowth |
| 32 | 545 | 545 | 15 Black, 20 White, 10 Purple |
| 33 | 72 | 72 | 20 Red Camo, 13 Yellow Camo |
| 34 | 778 | 778 | 160 Yellow, 6 Zebra |
| 35 | 1015 | 1015 | 35 Pink, 30 Black, 25 White, 5 Rainbow |
| 36 | 760 | 760 | 140 Pink, 20 Green Camo Regrowth |
| 37 | 1202 | 1202 | 25 Black, 25 White, 7 Camo White, 10 Zebra, 15 Lead |
| 38 | 1157 | 1157 | 42 Pink, 17 White, 10 Zebra, 14 Lead, 2 Ceramic |
| 39 | 1620 | 1620 | 10 Black, 10 White, 20 Zebra, 18 Rainbow, 2 Rainbow Regrowth |
| 40 | 616 | 616 | 1 M.O.A.B. |
| 41 | 2040 | 2040 | 60 Black, 60 Zebra |
| 42 | 517 | 517 | 6 Rainbow Regrowth, 5 Rainbow Camo |
| 43 | 1198 | 1198 | 10 Rainbow, 7 Ceramic |
| 44 | 1150 | 1150 | 50 Zebra |
| 45 | 2289 | 2289 | 180 Pink, 10 Purple Camo, 4 Fortified Lead, 25 Rainbow |
| 46 | 684 | 684 | 6 Fortified Ceramic |
| 47 | 1598 | 1598 | 70 Pink Camo, 12 Ceramic |
| 48 | 2752 | 2752 | 40 Pink Regrowth, 30 Purple Camo Regrowth, 40 Rainbow, 3 Fortified Ceramic |
| 49 | 4771 | 4771 | 343 Green, 20 Zebra, 20 Rainbow, 10 Rainbow Regrowth, 18 Ceramic |
| 50 | 3540 | 3540 | 20 Red, 8 Fortified Lead, 20 Ceramic, 2 M.O.A.B. |
| 51 | 2030 | 2030 | 10 Rainbow Regrowth, 15 Ceramic Camo |
| 52 | 3447 | 3447 | 25 Rainbow, 10 Ceramic, 2 M.O.A.B. |
| 53 | 2248 | 2248 | 80 Pink Camo, 3 M.O.A.B. |
| 54 | 4872 | 4872 | 35 Ceramic, 2 M.O.A.B. |
| 55 | 5296 | 5296 | 45 Ceramic, 1 M.O.A.B. |
| 56 | 2496 | 2496 | 40 Rainbow Camo, 1 M.O.A.B. |
| 57 | 4344 | 4344 | 40 Rainbow, 4 M.O.A.B. |
| 58 | 5780 | 5780 | 15 Ceramic, 10 Fortified Ceramic, 5 M.O.A.B. |
| 59 | 4270 | 4270 | 50 Lead Camo, 20 Ceramic, 10 Ceramic Regrowth |
| 60 | 3164 | 3164 | 1 B.F.B. |
| 61 | 6530 | 6530 | 150 Zebra Regrowth, 5 M.O.A.B. |
| 62 | 8247 | 8247 | 250 Purple, 15 Rainbow Camo Regrowth, 5 M.O.A.B., 2 Fortified M.O.A.B. |
| 63 | 14413 | 14413 | 75 Lead, 122 Ceramic |
| 64 | 6264 | 6264 | 6 M.O.A.B., 3 Fortified M.O.A.B. |
| 65 | 18966 | 18966 | 100 Zebra, 70 Rainbow, 50 Ceramic, 3 M.O.A.B., 2 B.F.B. |
| 66 | 7496 | 7496 | 8 M.O.A.B., 3 Fortified M.O.A.B. |
| 67 | 6410 | 6410 | 13 Fortified Ceramic Camo Regrowth, 8 M.O.A.B. |
| 68 | 5628 | 5628 | 4 M.O.A.B., 1 B.F.B. |
| 69 | 6680 | 6680 | 40 Black Regrowth, 40 Fortified Lead, 50 Ceramic |
| 70 | 13184 | 13184 | 120 White Camo Regrowth, 200 Rainbow, 4 M.O.A.B. |
| 71 | 9280 | 9280 | 30 Ceramic, 10 M.O.A.B. |
| 72 | 10280 | 10280 | 38 Regrowth Ceramic, 2 B.F.B. |
| 73 | 11256 | 11256 | 8 M.O.A.B., 2 B.F.B. |
| 74 | 18054 | 18054 | 50 Ceramic, 60 Fortified Ceramic, 25 Fortified Ceramic Camo Regrowth, 1 B.F.B. |
| 75 | 25402 | 25402 | 14 Lead, 14 Fortified Lead, 3 Fortified M.O.A.B., 7 B.F.B. |
| 76 | 6240 | 6240 | 60 Ceramic Regrowth |
| 77 | 22596 | 22596 | 11 M.O.A.B., 5 B.F.B. |
| 78 | 26382 | 26382 | 80 Purple, 150 Rainbow, 75 Ceramic, 72 Ceramic Camo, 1 B.F.B. |
| 79 | 45804 | 45804 | 500 Rainbow Regrowth, 4 B.F.B., 2 Fortified B.F.B. |
| 80 | 16656 | 16656 | 1 Z.O.M.G. |
| 81 | 43180 | 44506 | 17 B.F.B. |
| 82 | 46400 | 52320 | 10 B.F.B., 5 Fortified B.F.B. |
| 83 | 21600 | 25050 | 40 Ceramic, 40 Ceramic Regrowth, 40 Fortified Ceramic, 30 M.O.A.B. |
| 84 | 48400 | 51480 | 50 M.O.A.B., 10 B.F.B. |
| 85 | 28320 | 30731 | 2 Z.O.M.G. |
| 86 | 21000 | 27013 | 5 Fortified B.F.B. |
| 87 | 56640 | 63008 | 4 Z.O.M.G. |
| 88 | 56920 | 63600 | 18 M.O.A.B., 8 B.F.B., 2 Z.O.M.G. |
| 89 | 47600 | 64336 | 20 Fortified M.O.A.B., 8 Fortified B.F.B. |
| 90 | 2480 | 2756 | 50 Fortified Lead Camo Regrowth, 3 D.D.T. |
| 91 | 58300 | 71160 | 100 Fortified Ceramic, 20 B.F.B. |
| 92 | 91640 | 117408 | 50 Fortified M.O.A.B., 4 Z.O.M.G. |
| 93 | 45960 | 62936 | 10 Fortified B.F.B., 6 D.D.T. |
| 94 | 148460 | 178112 | 25 B.F.B., 6 Z.O.M.G. |
| 95 | 60300 | 80860 | 500 Purple Camo Regrowth, 250 Fortified Lead Camo Regrowth, 50 Fortified M.O.A.B., 30 D.D.T. |
| 96 | 189160 | 238952 | 40 Fortified M.O.A.B., 30 B.F.B., 6 Z.O.M.G. |
| 97 | 49600 | 69984 | 2 Fortified Z.O.M.G. |
| 98 | 239280 | 327456 | 30 Fortified B.F.B., 8 Z.O.M.G. |
| 99 | 37500 | 47424 | 60 M.O.A.B., 9 Fortified D.D.T. |
| 100 | 55300 | 67200 | 1 B.A.D. |
| 101 | 13450 | 20020 | 450 Purple (1 group of 250 and 1 group of 200), 50 Fortified Ceramic, 10 Fortified M.O.A.B. |
| 102 | 133860 | 199826 | 3 B.F.B., 3 Fortified B.F.B., 1 Z.O.M.G., 3 Fortified Z.O.M.G. (last 2 are stacked), 18 D.D.T., 12 Fortified D.D.T. |
| 103 | 330188 | 507908 | 198 Purple (3 groups of 66), 100 M.O.A.B., 50 Fortified M.O.A.B., 10 Fortified Z.O.M.G. |
| 104 | 243500 | 372516 | 200 Purple (2 groups of 100), 200 Fortified Lead (2 groups of 100), 200 Ceramic (2 groups of 100), 150 Fortified M.O.A.B., 25 B.F.B., 14 Fortified B.F.B. |
| 105 | 105450 | 152340 | 25 Fortified Lead, 100 Ceramic, 300 Fortified Ceramic, 30 B.F.B. |
| 106 | 73260 | 113376 | 66 D.D.T., 27 Fortified D.D.T. |
| 107 | 258164 | 447384 | 444 Purple Camo, 100 Fortified Ceramic, 10 Fortified Z.O.M.G. |
| 108 | 325840 | 554704 | 9 Z.O.M.G., 8 Fortified Z.O.M.G. |
| 109 | 334590 | 552345 | 15 Purple, 30 Fortified M.O.A.B. (15 groups of 2, stacked), 15 B.F.B., 15 Fortified B.F.B. (each stacked with a regular B.F.B.), 15 Z.O.M.G. |
| 110 | 88580 | 141410 | 25 B.F.B., 18 D.D.T., 12 Fortified D.D.T. |
| 111 | 463920 | 830212 | 17 Z.O.M.G., 9 Fortified Z.O.M.G. (Z.O.M.G.s and Fortified Z.O.M.G.s are stacked at the end) |
| 112 | 103800 | 198976 | 20 Fortified B.F.B., 18 Fortified D.D.T. |
| 113 | 82880 | 156812 | 43 Ceramic Camo, 42 Fortified Ceramic, 50 Fortified M.O.A.B., 10 Fortified B.F.B. |
| 114 | 258060 | 483176 | 24 M.O.A.B., 36 Fortified M.O.A.B., 12 B.F.B., 8 Fortified B.F.B., 5 Z.O.M.G., 3 Fortified Z.O.M.G., 9 D.D.T., 6 Fortified D.D.T. (D.D.T.s and Fortified D.D.T.s spawn throughout the round, then it goes Fortified M.O.A.B., M.O.A.B., B.F.B., Fortified B.F.B., Z.O.M.G., Fortified Z.O.M.G., Round 115 has them in roughly reverse order) |
| 115 | 258060 | 492394 | 24 M.O.A.B., 36 Fortified M.O.A.B., 12 B.F.B., 8 Fortified B.F.B., 5 Z.O.M.G., 3 Fortified Z.O.M.G., 9 D.D.T., 6 Fortified D.D.T. (D.D.T.s and Fortified D.D.T.s spawn throughout the round, the rest goes in roughly reverse order compared to Round 114) |
| 116 | 276400 | 575599 | 400 Purple, 18 Fortified B.F.B., 8 Fortified Z.O.M.G. |
| 117 | 39370 | 75010 | 250 Lead, 27 D.D.T., 18 Fortified D.D.T. |
| 118 | 174600 | 344079 | 10 Z.O.M.G., 30 Fortified D.D.T. |
| 119 | 150900 | 318891 | 3 B.A.D. |
| 120 | 217200 | 431808 | 24 Fortified M.O.A.B., 12 B.F.B., 12 Z.O.M.G. |
| 121 | 227200 | TBA | 14 Fortified B.F.B., 28 Fortified M.O.A.B., 6 Fortified Z.O.M.G. |
| 122 | 187850 | TBA | 20 Fortified B.F.B., 40 B.F.B., 75 Fortified Lead |
| 123 | 290400 | TBA | 200 M.O.A.B., 8 Fortified Z.O.M.G. |
| 124 | 315000 | TBA | 75 Fortified B.F.B. |
| 125 | 433020 | TBA | 6 Z.O.M.G, 42 B.F.B, 63 M.O.A.B. |
| 126 | 65350 | TBA | 1 Fortified Lead Camo Regrowth, 99 D.D.T. |
| 127 | 83040 | TBA | 48 M.O.A.B., 24 B.F.B. |
| 128 | 134100 | TBA | 39 Fortified D.D.T., 200 Fortified Ceramic Camo, 20 B.F.B. |
| 129 | 290837 | TBA | 7 Fortified Z.O.M.G., 77 Fortified Lead Camo, 77 Purple Camo, 77 Ceramic Camo, 7 Z.O.M.G., 18 D.D.T. |
| 130 | 123120 | TBA | 84 M.O.A.B., 66 Fortified M.O.A.B., 48 D.D.T., 6 Fortified D.D.T. |
| 131 | 446400 | TBA | 18 Fortified Z.O.M.G. |
| 132 | 404880 | TBA | 18 Z.O.M.G., 6 Fortified Z.O.M.G., 200 Purple Camo |
| 133 | 366440 | TBA | 12 Fortified M.O.A.B., 12 Fortified B.F.B., 4 Fortified Z.O.M.G., 27 M.O.A.B., 27 B.F.B., 12 Z.O.M.G. |
| 134 | 121520 | TBA | 12 Fortified B.F.B., 28 B.F.B. |
| 135 | 370300 | TBA | 21 Fortified D.D.T., 14 Fortified Z.O.M.G. |
| 136 | 128160 | TBA | 96 Fortified M.O.A.B., 24 B.F.B. |
| 137 | 337920 | TBA | 18 Z.O.M.G., 24 B.F.B., 48 M.O.A.B. |
| 138 | 118800 | TBA | 81 Fortified D.D.T., 44 D.D.T |
| 139 | 133660 | TBA | 181 M.O.A.B., 72 Fortified M.O.A.B. |
| 140 | 143200 | 672632 | Fortified B.A.D., B.A.D. |
| 141-162 | Random | Random | Random (M.O.A.B., B.F.B., Z.O.M.G., D.D.T., and B.A.D. only, may also have fortified (B.A.D.s cannot be fortified)) |
| 163 | Random | Random | Random (Lead and Ceramic only, may also have Fortified, Regrowth, or Camo (Leads always have two properties)) |
| 164-199 | Random | Random | Random (M.O.A.B., B.F.B., Z.O.M.G., D.D.T., and B.A.D. only, may also have fortified (B.A.D.s cannot be fortified)) |
| 200 | 185800 | 5391840 | 2 Fortified B.A.D. |
| 201-262 | Random | Random | Random (M.O.A.B., B.F.B., Z.O.M.G., D.D.T., and B.A.D. only, may also have fortified) |
| 263 | Random | Random | Random (M.O.A.B. and D.D.T. only, may also be Fortified (D.D.T.s are always fortified)) |
| 264-9,999 | Random | Random | Random (M.O.A.B., B.F.B., Z.O.M.G., D.D.T., and B.A.D. only, may also have fortified) |
| 10,000 | 9290000 | 40645592000 | 100 Fortified B.A.D. |
| 10,001 | 749925 | 1279872 | 9999 Fortified Ceramic |
| 10,002 | 46000 | 98697200 | 100 M.O.A.B. |
| 10,003 | 254000 | 740208800 | 100 B.F.B. |
| 10,004 | 1416000 | 4934935200 | 100 Z.O.M.G. |
| 10,005 | 66000 | 197427200 | 100 D.D.T. |
| 10,006+ | 9290000 | Depends | 100 Fortified B.A.D. |
| 2,147,483,647+ | 0 | 0 | None |
Round

RBE

Income

Total Income

Cumulative Income

Income Reduction
Health ramp
Speed ramp
Special Bloons
1
20
$20
$771
$771

2
35
$35
$137
$908
3
35
$35
$138
$1046

4
71
$71
$175
$1221
5
59
$59
$164
$1385
6
57
$57
$163
$1548

7
75
$75
$182
$1730
8
92
$92
$200
$1930
9
90
$90
$199
$2129
10
204
$204
$314
$2443
11
78
$78
$189
$2632

12
80
$80
$192
$2824
13
169
$169
$282
$3106
14
145
$145
$259
$3365

15
151
$151
$266
$3631

16
152
$152
$268
$3899
17
48
$48
$165
$4064

18
240
$240
$358
$4422
19
141
$141
$260
$4682

20
66
$66
$186
$4868

21
230
$230
$351
$5219
22
176
$176
$298
$5517

23
154
$154
$277
$5794
24
43
$43
$167
$5961

25
210
$210
$335
$6296

26
207
$207
$333
$6629

27
535
$535
$662
$7291

28
138
$138
$266
$7557

29
260
$260
$389
$7946
30
207
$207
$337
$8283
31
406
$406
$537
$8820

32
495
$495
$627
$9447
33
72
$72
$205
$9652
34
778
$778
$912
$10564
35
1015
$1015
$1150
$11714

36
760
$760
$896
$12610
37
1202
$1202
$1339
$13949

38
1157
$1139
$1277
$15226

39
1620
$1620
$1759
$16985

40
616
$381
$521
$17506

41
2040
$2040
$2181
$19687
42
517
$517
$659
$20346
43
1198
$1135
$1278
$21624
44
1150
$1150
$1294
$22918
45
2289
$2277
$2422
$25340

46
684
$570
$716
$26056
47
1598
$1490
$1637
$27693
48
2752
$2695
$2843
$30536

49
4771
$4609
$4758
$35294

50
3540
$2866
$3016
$38310

51
2030
$947.5
$1023
$39333
×0.5
52
3447
$1443.5
$1519.5
$40852.5
×0.5
53
2248
$771.5
$848
$41700.5
×0.5
54
4872
$2043.5
$2120.5
$43821
×0.5
55
5296
$2328
$2405.5
$46226.5
×0.5
56
2496
$1130.5
$1208.5
$47435
×0.5
57
4344
$1702
$1780.5
$49215.5
×0.5
58
5780
$2140
$2219
$51434.5
×0.5
59
4270
$2000
$2079.5
$53514
×0.5
60
3164
$762.5
$842.5
$54356.5
×0.5

61
6530
$1071
$1103.2
$55459.7
×0.2
62
8247
$1224.4
$1256.8
$56716.5
×0.2

63
14413
$2663
$2695.6
$59412.1
×0.2
64
6264
$685.8
$718.6
$60130.7
×0.2
65
18966
$2906.6
$2939.6
$63070.3
×0.2

66
7496
$838.2
$871.4
$63941.7
×0.2
67
6410
$856.6
$890
$64831.7
×0.2
68
5628
$609.8
$643.4
$65475.1
×0.2
69
6680
$1222
$1255.8
$66730.9
×0.2
70
13184
$2448.8
$2482.8
$69213.7
×0.2
71
9280
$1332
$1366.2
$70579.9
×0.2
72
10280
$1332
$1366.4
$71946.3
×0.2
73
11256
$1219.6
$1254.2
$73200.5
×0.2
74
18054
$2870
$2904.8
$76105.3
×0.2

75
25402
$2492.4
$2527.4
$78632.7
×0.2

76
6240
$1140
$1175.2
$79807.9
×0.2
77
22596
$2363.2
$2398.6
$82206.5
×0.2
78
26382
$4684
$4719.6
$86926.1
×0.2

79
45804
$6530
$6565.8
$93491.9
×0.2
80
16656
$1220.2
$1256.2
$94748.1
×0.2

81
44506
$5185
$5221.2
$99969.3
×0.2
×1.02
×1.02
82
52320
$4575
$4611.4
$104580.7
×0.2
×1.04
×1.04
83
25080
$4566
$4602.6
$109183.3
×0.2
×1.06
×1.06

84
51480
$6860
$6896.8
$116080.1
×0.2
×1.08
×1.08
85
30704
$2440.4
$2477.4
$118557.5
×0.2
×1.1
×1.1
86
27040
$762.5
$781.1
$119338.6
×0.1
×1.12
×1.12
87
63008
$2440.4
$2459.1
$121797.7
×0.1
×1.14
×1.14
88
63600
$3126
$3144.8
$124942.5
×0.1
×1.16
×1.16
89
64384
$1982
$2000.9
$126943.4
×0.1
×1.18
×1.18
90
2756
$149.3
$168.3
$127111.7
×0.1
×1.2
×1.2

91
71160
$4000
$4019.1
$131130.8
×0.1
×1.22
×1.22
92
117408
$4345.4
$4364.6
$135495.4
×0.1
×1.24
×1.24
93
62936
$1753.6
$1772.9
$137268.3
×0.1
×1.26
×1.26
94
178112
$7473.1
$7492.5
$144760.8
×0.1
×1.28
×1.28
95
80860
$3523
$3542.5
$148303.3
×0.1
×1.3
×1.3

96
238952
$9759.6
$9779.2
$158082.5
×0.1
×1.32
×1.32
97
69984
$1220.2
$1239.9
$159322.4
×0.1
×1.34
×1.34
98
327456
$9455.8
$9475.6
$168798
×0.1
×1.36
×1.36
99
47424
$2628.9
$2648.8
$171446.8
×0.1
×1.38
×1.38
100
67200
$1334.6
$1354.6
$172801.4
×0.1
×1.4
×1.4

101
20020
$225.2
$229.22
$173030.62
×0.02
×1.45
×1.45
102
199826
$899.68
$903.72
$173934.34
×0.02
×1.5
×1.5

103
507908
$2386.96
$2391.02
$176325.36
×0.02
×1.55
×1.55

104
370672
$2736.5
$2740.58
$179065.94
×0.02
×1.6
×1.6

105
152340
$1678.5
$1682.6
$180748.54
×0.02
×1.65
×1.65

106
113376
$708.66
$712.78
$181461.32
×0.02
×1.7
×1.7
107
447384
$1463.48
$1467.62
$182928.94
×0.02
×1.75
×1.75
108
554704
$2074.34
$2078.5
$185007.44
×0.02
×1.8
×1.8
109
552345
$2975.7
$2979.88
$187987.32
×0.02
×1.85
×1.85

110
141410
$991.1
$995.3
$188982.62
×0.02
×1.9
×1.9
111
830212
$3172.52
$3176.74
$192159.36
×0.02
×1.95
×1.95
112
198976
$747.16
$751.4
$192910.76
×0.02
×2
×2
113
156880
$847.5
$851.76
$193762.52
×0.02
×2.05
×2.05

114
483416
$2157.66
$2161.94
$195924.46
×0.02
×2.1
×2.1

115
492396
$2157.66
$2161.96
$198086.42
×0.02
×2.15
×2.15

116
575600
$1573.16
$1577.48
$199663.9
×0.02
×2.2
×2.2
117
75010
$377.9
$382.24
$200046.14
×0.02
×2.25
×2.25
118
344080
$1448.8
$1453.16
$201499.3
×0.02
×2.3
×2.3
119
319020
$800.76
$805.14
$202304.44
×0.02
×2.35
×2.35
120
431808
$2013.12
$2017.52
$204321.96
×0.02
×2.4
×2.4
121
516500
$1372.48
$1376.9
$205698.86
×0.02
×2.45
×2.45
122
385230
$1840.5
$1844.94
$207543.8
×0.02
×2.5
×2.5
123
629936
$2500.16
$2504.62
$210048.42
×0.02
×2.55
×2.55
124
738600
$2287.5
$2291.98
$212340.4
×0.02
×2.6
×2.6
125
461844
$2493.18
$2497.68
$214838.08
×0.02
×2.75
×2.65
126
141778
$754.52
$759.04
$215597.12
×0.02
×2.9
×2.7
127
178248
$1097.76
$1102.3
$216699.42
×0.02
×3.05
×2.75
128
263168
$1287.18
$1291.74
$217991.16
×0.02
×3.2
×2.8