| | | |
| --- | --- | --- |
| " | Place almost any land tower on water with the Pontoon! Deploy the Pontoon on water, then place your land tower on top. | " |
| | ~ BTD5 and BTD6 description | |
The Pontoon is a deployable object that makes an appearance in Bloons TD 5 and Bloons TD 6. It is depicted as a few wooden logs floating on an inner tube. When placed in the water, land towers can be placed atop the Pontoon. Although it has a pop count, the Pontoon has no attacks. The Portable Lake is the opposite of the Pontoon, allowing water towers to be placed on land.
In Bloons TD 5, the Pontoon is a Special Agent that was released on May 17, 2012. It costs

40, making it one of the cheapest Special Agents, alongside the Monkey Farmer and Portable Lake.
In Bloons TD 6, the Pontoon is available as a Power and costs

50. In this game, selling a Pontoon or Portable Lake will also sell the towers on top of them. An "Iceberg Pontoon" skin was released in the 22.0, and costs 35
.
Pro
[
]
The Pontoon Pro gives towers a range boost. Players need 50 Pontoons to unlock it, which costs

2,000. This is only available on BTD5 Flash and BTD5 Mobile/Steam/Console.
Gallery
[
]
Trivia
[
]

In BTD5 Mobile, a Banana Farm can not fit on a pontoon, due to its large footprint.
The Pontoon is not sacrificed by the Temple of the Monkey God. It will also collapse and destroy itself if a TotMG is built on to of it, also collapsing the Temple as well.
Some say that the Portable Lake is better because the Portable Lake is helpful on many tracks with more land while the Pontoon is only helpful on tracks filled with water like Archipelago or Spice Islands, but others would debate that Portable Lakes are only for the use of Monkey Buccaneers and/or Monkey Sub, making them virtually useless.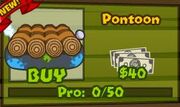 It is possible to place a Pontoon on a Portable Lake, but this is worthless and wastes 80/40 if you bought it with Monkey Money.

When placing a Pontoon Pro on a Portable Lake or Portable Lake Pro, it can become pretty useful.
The player cannot place a Pontoon on a Portable Lake in BTD6.