For the Bloons TD Battles track, see Park.
Park Path is one of the 10 Beginner Difficulty tracks featured in Bloons Tower Defense 5.
A clean and autumnal environment. Due to its spiraling nature, this map, if properly utilised, can be relatively easy to beat on Easy and Medium, even for the newest of players. Key terrain locations include the various clearings, which are great for Mortar Towers, Sniper Monkeys, and Banana Farms.
It is recommended that one reserves the locations closest to where the track loops for more powerful towers, such as Super Monkeys, fully upgraded Ninja Monkeys or Monkey Apprentices.
There is also water in a form of a stream where Monkey Buccaneers and Monkey Subs can be built.
Monkey Money Rewards
Easy
Medium
Hard
Impoppable
First Time
$75


$150




$75

$100


$200




$125

$150


$300




$200

$300

Completed
$15


$30




$30

$20


$40




$50

$30


$60




$80

$120
Token Rewards

| Easy | Medium | Hard |
| --- | --- | --- |
| 1 | 2 | 3 |
Achievements
Edit
| Name | Awesome Points | Image |
| --- | --- | --- |
| Park Path Bronze | 10 | |
| Park Path Silver | 25 | |
| Park Path Gold | 50 | |
Tips/Strategies
Edit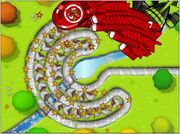 Tracks in the Bloons TD Series