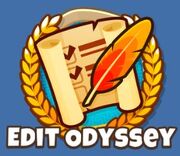 For Ninja Kiwi's Odyssey Events, see Odyssey Mode (BTD6).
The Odyssey Creator is a feature in BTD6, first added in Version 26.0. It can be found on the "Play Social" tab under the "Edit Odyssey" button. Players can create custom-made Odysseys with many different rules. Many of the rules found in Challenge Editor can be found here, with a few limitations however.
Editable Properties
[
]
There are 13 factors:
Odyssey Name (up to 40 characters)
Description (up to 120 characters)
Difficulty (Easy, Medium, Hard)
Lives (1 to 10,000,000)
Extreme Mode (Extreme Mode or not)
Maps (3 to 5 maps depending on difficulty)
Max Monkey Slots (1 to 16)
Max Monkeys (1 to 10,000,000)
Max Power Slots (1 to 8)
Max Powers (1 to 10,000,000)
Heroes (Selectable or Pre-Selected)
Towers (Dart Monkey, Boomerang Monkey, Bomb Shooter, etc; quantities from 1 to 99, infinite, or disallowed)
Powers (Super Monkey Storm, Monkey Boost, Thrive, etc; quantities from 1 to 99, infinite, or disallowed)
Editing Maps
[
]
There are 3 to 5 maps per odyssey depending on the difficulty. Each map can be edited much like the Challenge Editor with only a few exceptions:
Lives and max lives cannot be changed
Max towers cannot be set
Towers cannot be changed
The difficulty, however, can be set independent of the odyssey's difficulty.
Testing and Sharing an Odyssey
[
]
Odysseys can be tested whenever the player wants. When choosing a crew, powers can be selected. In game, the powers button is not crossed out like in the Challenge Editor, but the powers menu still cannot be opened.
If the player decides to edit the odyssey while testing, the odyssey's progress is saved. Most options will invalidate all progress and force the player to restart. If the player chooses to edit a map that they have not completed, progress is not invalidated.
Players can choose to restart a map they have already cleared. The game says that restarting a map will invalidate their progress, but it only reverts progress back to that map.
Odyssey Browser
[
]
The Odyssey Browser is an extension to the Challenge Browser. Players can access it by pressing the "Odysseys" button on the top of the screen. Functionality is almost identical to the Challenge Browser. Players can sort, search, and view stats the same way as the normal Challenge Browser.
Version History
[
]
26.0
Initial release
26.1
Odyssey Monkey portrait is no longer the same for each difficulty
Resolved an issue where updating to v26.0 from some game versions could break some Odyssey Creation features
Retry Last Round option during Odyssey Creation should no longer count an excessive amount of towers used to complete the Odyssey
The Edit Odyssey button within the Social Play menu now require an internet connection
27.0
When share is still locked in Odyssey Browser added a pop-up like challenges to explain why (?)
Added more of a visible difference between new/old Odyssey Browser challenges
Custom Odyssey saves should now only show up under "My Saved Games", if the save has not been completed
Trivia
[
]
Gallery
[
]