Under construction
This page is currently under construction. Please bear with us while our editors improve the page.
| | | |
| --- | --- | --- |
| " | Play more Awesome games at ninjakiwi.com. | " |
| | ~ BTD5D Round 13 | |
| | | |
| --- | --- | --- |
| " | If you have not played more Ninja Kiwi games, you should - because those games are fun, and fun is good. | " |
| | ~ BTD5 round 13 | |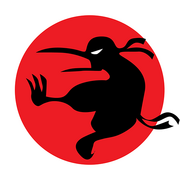 Ninja Kiwi is the game developer behind all Bloons games, along with many other games that don't have to do with the Bloons games. They are based in Auckland, New Zealand, but their target audience is the United States. They have been making online games since 2006. Ninja Kiwi started developing games in a spare bedroom with two people working part-time. They are currently working in an office with 15 people working full time. When the revamped website went into beta, it became no longer reliant on Cookies when logging into a Ninja Kiwi account. Older designs of the website can be found here.
On 24th/25th March 2021, Ninja Kiwi announced that they have become acquired by esports company Modern Times Group (MTG). They made an announcement on r/btd6 on here to announce the special announcement of recent acquisition here.
Ninja Kiwi Blog
[
]
Main article: Ninja Kiwi Blog
The Ninja Kiwi Blog was launched on the Ninja Kiwi website on March 2, 2009 (link to first post). It has been the focal point of game announcements, reviews, updates, etc. ever since launch. Bloons (iPhone/iPod Touch) was the first Bloons game announced on the blog, with Bloons TD 4 being the first Bloons TD game announced.
History
[
]
Huh? A visible wiki comment?
This page contains visible wiki comments (e.g. "(?)", "(does it?)", and "(check?)"). The purpose of these are to clearly show doubt by an editor who recently added content, mainly logical predictions. If you know if that the disputed fact(s) are true, you can remove the comments, but please leave an edit summary about it if you do so.
Ninja Kiwi was found by Stephen Harris and TBA ... (insert game history stuff and pre-bloons stuff)
On the June 29th 201X (?) update, everyone was given

200 to "Celebrate Independence Day," as well as another double MM period.
Following the change of dealing with Adobe Flash games, Ninja Kiwi has changed the design of the website entirely on March 2021.
On 25th/26th March 2021, Ninja Kiwi hosted a AMA about potential future developments for the Bloons games. According to the AMA, there is evidence that a number of different topics have been revealed:
New Bloons sequel
Bloons TD Battles 2:

Mostly F2P with no clubs or powers
Early access will be added in the near future
Built from scratch
New engine
Streamlined compared to Battles 1
Heroes will arrive in the game
No exclusive towers at launch. COBRA planned to add soon but not on release. Not paid tower.

Bloons TD 6:

Arriving for consoles
Boss Bloons are hinted to arrive soon
4 player local Co-Op can be added
No sequel is planned
Map/tower editor may be coming into BTD6.
Tower skins are not planned to be added
Ninja Kiwi releases a blog each week to add news on any news for their games. Every week, they will answer approximately 30-40 questions per week provided from various fans of their games. The majority of questions since late-2018 are related to Bloons TD 6, given their highest focus on that game. There is often more focus on currently hot topics relating to games; a particularly notable example is the Version 27.0 update with Boss Bloons and Paragons, where Ninja Kiwi elaborates further about the progress of those two long-awaited major new features.
As of 18th February 2022, according to their 18th February 2022 blog, Ninja Kiwi has plans to invest their resources primarily to regularly update BTD5 Mobile, BTD6, Battles 2, and Bloons Pop!, but no other games.
Ninja Kiwi announced the discontinuation of Bloons TD 5 Flash online features alongside various other old non-Bloons Flash games, as discussed in their April 1st 2022 and April 8th 2022 blogs. Bloons TD 5 Flash's online features will be discontinued after 30th April 2022, according to the April 1st 2022 blog.
Sounds
[
]
Not enough sounds!
There are not enough sounds on this page to sufficiently complete this page or section. You can help by expanding it by uploading some sounds related to the article's subject(s). (Due to technical limitations, the wiki only accepts .ogg, .wav, .mp3, or .mp4)
Ninja Kiwi itself is not a subject with associated sounds, but its production logos do. Sounds for Ninja Kiwi logo began in the Flash version of Bloons 2.
When the Ninja Kiwi "nighttime slash" production logo loads in Bloons 2, BTD5 Flash, or BTDB Flash:
[Cricket sounds, landing feet on a roof, footsteps, a Bloon pop, and a sword shine]
When the Ninja Kiwi "skeumorphic sword shine" production logo loads in BTD5 Mobile, BTDB Mobile, or BMC Mobile:
When the Ninja Kiwi "skeumorphic sword shine" production logo loads in BSM2 Mobile:
[sword shine] (different sound)
When the Ninja Kiwi "2D sword shine" production logo loads in BTD6:
When the Ninja Kiwi "smash glass" production logo loads in BATTD, Bloons Pop!, or BTDB2:
[swipe movement and glass smash]
Gallery
[
]
Trivia
[
]
Ninja Kiwi has never released a game on physical media.
According to Ninja Kiwi's 3rd September 2021 blog, the kiwi in the Ninja Kiwi logo represents and expresses New Zealand culture in their brand name.
According to Ninja Kiwi's October 8th 2021 blog, Ninja Kiwi is comfortable with keeping the Bloons franchise based primarily on the tower defense genre, but if they had to rebrand their Bloons games to a different game genre then they would opt for the team-based first-person shooter game genre.
According to Ninja Kiwi's October 29th 2021 blog, monkeys in the Bloons TD series enjoy eating bananas, pineapples, and sandwiches the most.
According to Ninja Kiwi's December 10th 2021 blog, Tim Haywood works in collaboration with NK.
According to Ninja Kiwi's 25th March 2022 blog, Fortress Destroyer Mobile was one of Ninja Kiwi's first games made on Unity, a game engine that would later be used for Bloons TD 6.
When differentiating between Flash counterparts versus Mobile counterparts, Ninja Kiwi consistently refers the Flash counterpart as "[game] Web" instead of "[game] Flash". An example of this is in their 8th April 2022 blog.
According to Ninja Kiwi's 3rd June 2022, Ninja Kiwi's goal for making games is to make games that themselves and their fans like to play too, motivated by a life-long passion to run a stable company that their employees "love for a living".
External links
[
]