| | | |
| --- | --- | --- |
| " | Generates money each round and adds it to your total. No fuss. | " |
| | ~ BTD6 description | |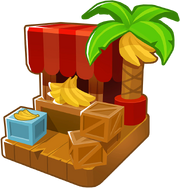 Marketplace is the third upgrade of Path 3 for the Banana Farm in BTD6. It allows all of the farm's bananas to be automatically collected during the round rather than releasing banana bunches. The amount of income produced each round is increased to a total of $240 (+$40 per Path 1 upgrades), in groups of $20 bananas. It costs $2,465 on Easy, $2,900 on Medium, $3,130 on Hard, and $3,480 on Impoppable. As a disadvantage for making the cash gain so simple, there is less produce than either Path 1 or Path 2 Farms.
Strategies
Edit
Marketplace strives for one overall goal in the lineage of Monkey Farm upgrades: string free, hands free income. Ultimately, this allows the player to manage towers, focus on the Bloons and timing of certain abilities, and it makes this the easiest Banana Farm to spam throughout the map. However, the low production of this Banana Farm is not appreciated when one is trying to get as much money as possible, and Long Life Bananas and Monkey Farmers compete with it to alleviate the problem having to collect Bananas constantly for a lower cost in terms of in-game cash. Its worst competitor is Monkey Bank, which has a vastly better return, for only the cost of player interaction every 10+ rounds. Sometimes, if your strategy already requires that much attention or micro, it may be best to factor in Bananas from your Banana Farms to that attention or micro.
Crosspath with top path, as its addition of $40 per upgrade with top path is better than extra $5 ($6 with "More Valuable Bananas" MK) each collection with Valuable Bananas. Long Life Bananas will have no effect on the Marketplace.
Community content is available under
CC-BY-SA
unless otherwise noted.