For the type of terrain in which bloons travel on, see Track.

Please see the discussion page on uploading track pictures.
In the BTD series, maps (also referred as tracks) are environments containing paths in which Bloons travel on. There are many tracks to choose from, with the difficulty of each determined by factors including but not limited to the number of Bloon entrances, number of paths and the length of these paths. Most tracks did not have a specific name until Bloons Tower Defense 4.
As of January 2016, there are more than 200 tracks throughout the BTD and BMC series.
Bloons TD 1 Track
[
]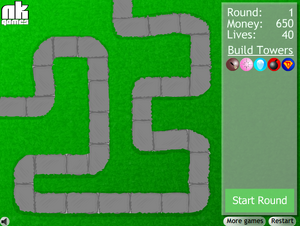 In the original Bloons Tower Defense, there is only one track and no selection of difficulty. The Bloons come from the left and go up to the top. The Bloons are also very off-centered in BTD1.
The track is the very first track in the Bloons TD series. The terrain is grassy; the grey paths look like stones. There are no trees or water.
Bloons TD 2 Tracks
[
]
In Bloons TD 2, there are 3 tracks rather than 1, with each track level determining the difficulty.
Easy Track
[
]
The Easy Track in Bloons TD 2 is, as its name suggests, relatively easier than the others. Bloons appear from the left and exit at the bottom, on white paths.
Medium Track
[
]
The Medium Track has the same terrain as the BTD1 track, being grassy and having same color of paths. It is slightly shorter than the Easy track. Bloons start from the top and exit at the bottom.
Hard Track
[
]
The Hard Track is the most difficult of the three tracks, with two intersecting paths. It is most likely located in a desert; the paths are brown.
Bloons TD 3 Tracks
[
]
There are 8 tracks in BTD3. The final four tracks are only available if the game is played on the Ninja Kiwi website.
The following 9 tracks are only available in the mobile version of BTD3.
Bloons TD 4 Tracks
[
]
In BTD4, there are 9 default tracks and 7 premium tracks.
Premium tracks
[
]
Bloons TD 4 Expansion Tracks
[
]
The Expansion offers 4 new tracks alongside the 7 premium tracks from BTD4:
Bloons TD 5 Tracks
[
]
In BTD5, there are 63 tracks, with Alpine Lake, Haunted Swamp, Cash Money and Spider Map exclusive to Co-op Mode. The Steam (and mobile?) editions have 73 tracks, mostly the same, including six Co-op exclusive tracks.
These are the lengths of different tracks in Bloons Tower Defense 5. Track lengths are measured in RBS (red bloon seconds i.e. the approximate time taken in seconds for a red bloon to complete the track). Also, as some Intermediate, Advanced and Expert tracks have multiple paths, the time listed is the shortest path.
Beginner Tracks
[
]
Beginner maps feature longer paths and lots of placeable areas that give the player more opportunities to pop the incoming bloons. These tracks have a Monkey Money reward of 75 on Easy, 100 on Medium, and 150 on Hard.
Intermediate Tracks
[
]
Intermediate maps are trickier and often feature water and other obstacles that restrict where players can place their towers. These tracks have a reward of 150 on Easy, 200 on Medium, and 300 on Hard.
Advanced Tracks
[
]
Advanced maps are a much tougher challenge and may contain large areas of unplaceable terrain and multiple bloon entry points. These tracks have a Monkey Money reward of

225 on Easy,

300 on Medium, and

450 on Hard.
Expert Tracks
[
]
Expert maps are some of the hardest maps in the game and often have very short paths with multiple entry points. Not for the faint hearted! These tracks have a Monkey Money reward of

300 on Easy, 400 on Medium, and

600 on Hard.
Extreme Tracks
[
]
These are the most difficult maps in the game. Only the very best strategies will hold up on these elite tracks. Unlike other tracks, you cannot save on them, and they also cost Monkey Money to play and reward XP for completing.
Bloons TD 5 Deluxe Tracks
[
]
In BTD5 Deluxe, there are 51 tracks:
Beginner Tracks
[
]
Intermediate Tracks
[
]
Advanced Tracks
[
]
Expert Tracks
[
]
Extreme Tracks
[
]
Bloons TD Battles Tracks
[
]
In Bloons TD Battles, there are 23 tracks in total:
Bloons Monkey City Tracks
[
]
Main article: Tracks (BMC)
In Bloons Monkey City, tracks are handled a bit differently than the rest of the series. They can't be chosen freely but rather each tile has a track associated with it. They'll then have to beat the track to expand their Monkey City with that tile. Tracks, except for those for special challenges (special missions), don't have official names leaving track names to be unofficially developed by fans. 'Special Challenge' tracks will have their own specific challenges while other tracks will fit in various categories of terrain such as Grass and Forest, with various forms of terrain favouring the use of certain towers and often also restricting the use of others.
Once players beat a track, it'll be added to the 'My Tracks' with current exceptions (as at 2020) being Caves on mobile and Special Missions on browser. Added tracks can be replayed earning city cash and rewards form any applicable event that may be running. Special missions will play as before but other tracks allow players to select a level of difficulty among other options.
Bloons TD 6 Tracks
[
]
In BTD6, there are currently 56 maps in the game. There are currently 18 beginner maps, 15 intermediate maps, 12 advanced maps, 10 expert maps, and 1 bonus map.
Beginner
[
]
Intermediate
[
]
Advanced
[
]
Expert
[
]
Other
[
]
Bloons Adventure Time TD Tracks
[
]
Tracks/Maps in the Bloons TD Series