| | | |
| --- | --- | --- |
| " | He is freezing cold and has a bad attitude to match. Rapidly throws snowballs that pop bloons once before freezing them. For better or worse, this agent melts after 10 rounds in the game. | " |
| | ~ Official description | |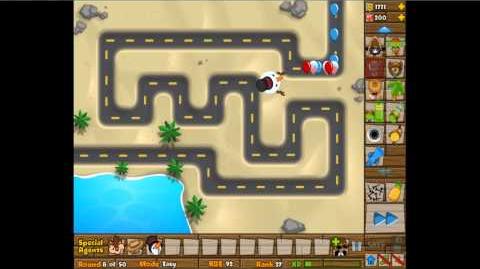 Mad Snowman is a special agent exclusive to Bloons TD 5 Deluxe. It costs

60 to purchase and it shoots snowballs at a moderate speed. Every time it hits a bloon, the bloon freezes. It disappears after only ten rounds. The Mad Snowman Pro requires the Mad Snowman to be placed 50 times, totalling to

3000.
This agent is good for the early rounds of Short-Lived.
The Mad Snowman makes a cameo appearance in the Christmas-themed main menu of Bloons TD 5.
It is the only Tower or Agent that disappears after specific rounds (except for towers in the Short Lived special mission).
Similarly to Snap Freeze, the Mad Snowman will pop bloons before they freeze.
It is the third Tower or Special Agent that can freeze bloons, the other two being the Temple Of The Monkey God with sacrificed ice and the Ice Tower itself.
The Mad Snowman cannot pop frozen bloons.
While most towers in the game are right-handed, the Mad Snowman is left-handed.
If placed effectively enough, it can solo the first 10 rounds that it's out, meaning it can save the player a lot of money if the player wants to save up for a Banana Farm or something more expensive.