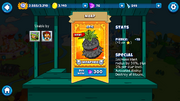 The M.O.A.P is an Epic Weapon available in Bloons Adventure Time TD which increases the pierce of the character who can equip Bomb Weapons and also grants an activated ability which behaves the same way it does in Bloons Super Monkey 2, but it deals an instant 1000 damage to all bloons on screen.
The Mother Of All Pineapples, a truly epic weapon.
Speed: N/A
Range: N/A
Damage: +1 +1 per 3 stars
Pierce: +10 +3 per star level
Increase blast radius by 50% plus 2% per star level.
Does 1000 damage to all bloons on screen.
Shard for: 1000
1.0.4

MOAP no longer instakills BADs
1.4.1

MOAP ability now deals 1000 damage to all bloons on screen instead of destroying all bloons besides BADs on screen.

MOAP ability now requires a full initial cooldown before initial use upon character placement.
1.6.2

MOAP now also adds +1 damage plus +1 per 3 stars.
Community content is available under
CC-BY-SA
unless otherwise noted.