Insta-Monkeys are free monkeys that are rewarded after finishing some tasks in BTD6, such as Daily Challenges, earned achievements, daily rewards, or beating Round 100 or every 100 rounds after that (Round 200, Round 300, etc). They are under the Powers tab, and they are considered "Powers" under the rules of CHIMPS Mode.
When all Tier 0-4 Insta-Monkeys of a single type of tower are collected, a gold border appears around the tower's icon in the Insta-Monkeys menu from the main screen. Finishing the entire Insta-Monkey collection by unlocking all 64 variant Insta-Monkeys (including Tier 5s) of a certain tower type will add a black border around the tower's icon. One of the first legitimate instances of this was recorded on 17th August 2020.
Obtaining Insta-Monkeys
[
]
The main way to earn them is through Daily Challenges, earned achievements, Daily Rewards, and passing Round 100, and passing every 100 rounds after Round 100 in a game. One other way is through Collection Events (Easter, Halloween, etc.), rewarding Insta-Monkeys for completing maps. The other way is to purchase them in the shop, where Insta-Monkey packs can be purchased with real money (in-app purchases).
Before 26.0, Insta-Monkeys were not rewarded if the player quits to the home screen on Round 100 and then beats that round after reloading their save file. 26.0 fixed this bug.
Since 21.0:
Beginner maps: Insta-Monkey reward range Tier 0 to Tier 2
Intermediate maps: Insta-Monkey reward range Tier 1 to Tier 3
Advanced maps: Insta-Monkey reward range Tier 2 to Tier 4
Expert maps: Insta-Monkey reward range Tier 3 to Tier 4
Round 200 and higher rewards Tier 3 to Tier 4 regardless of difficulty
All upgrades and towers have the same probability of occurring, with one upgrade being any tier from 0 to 4, and another being from 0 to 2. It is possible to earn any tower with Tier-5, by clocking the fastest timing of completion in a race event. However, players have to beat the intense competition with every other competitor and demonstrate proficiency in completing the race event in a short time. Alternatively, they can also be obtained through Diamond Chests in Collection Events, completing the two achievements Instant Gratification and I'm the Boss, or they can be purchased in extremely rare Tier 5 Insta Monkeys Pack sales.
Purchasing
[
]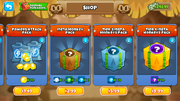 The only way to directly purchase them is through in-app purchases. There are three types of packs of Insta-Monkeys available, all of which give random types of Insta-Monkeys:
"Insta Monkey Pack" - gives two random Tier-1s, two random Tier-2s, and one random Tier-3. Costs $1.99 USD.
"Tier 3 Insta Monkeys Pack" - gives 10 random Tier-3s. Costs $3.99 USD.
"Tier 4 Insta Monkeys Pack" - gives 10 random Tier-4s. Costs $6.99 USD.
"Tier 5 Insta Monkeys Pack - gives 10 random Tier-5s. Costs $9.99 USD, and only appears in limited-time sales
List of Insta-Monkeys
[
]
Primary Monkeys
[
]
Military Monkeys
[
]
Magic Monkeys
[
]
Support Monkeys
[
]
Bugs
[
]
There was a bug where quitting on Round 100 and returning to the save prevents the player from receiving an Insta-Monkey. This glitch persisted until 26.0, which fixed it.
Gallery
[
]
Icons
[
]
Instamonkey collections
[
]
Trivia
[
]
Winning Impoppable or C.H.I.M.P.S. will guarantee earning an Insta-monkey because players get an Insta-monkey when you beat round 100. As of the 3.0 update, a popup comes up upon starting round 101 showing which monkey players got.
If playing on Apopalypse, it is possible, with a long enough map and precise timing, to reach round 100 without popping any bloons or placing any towers due to the nature of the gamemode.

Due to the fact that the Insta-monkey is rewarded immediately after Round 100 is 'beaten' the player can simply reach Round 100 and Round 101 will instantly start, netting the player a free insta-monkey, not even having to beat the B.A.D.
However, this no longer works as of version 8.0, as you have to actually beat the B.A.D. in order to get an Insta-monkey.
Between Version 3.0 and Version 8.0, there was a bug where players could get an infinite amount of Insta-monkeys, earning one free working condition Insta-monkey at a time. However, in order to do so, players must have had a round 100 save before the update on any given difficulty, mode or track.

This bug once still worked, but it only worked for Version 2.0 saves. This was since patched in Version 8.0.

Tier 5 insta-monkeys can be earned, but can only be obtained by placing 1st in a Race Event, earning Diamond Chests from Collection Events, or from purchasing an extremely rare sale on Tier 5 Insta-monkey Packs.
Between Version 13.0 and 13.1, all Tier 3 and Tier 4 Insta-monkeys came in 032 and 042 forms. This was fixed as of Version 14.0.
Before Version 21.0, Tier 0-2 Instas were even rarer than Tier 3-4 Instas.
Prior to Christmas 2020 (spans between early December 2020 to early January 2021), the Tier 5 Instas pack costed $49.99 USD to purchase, while still being a limited time option. It was permanently reduced to $9.99 USD since Christmas 2020.
In most cases, the icon for an Insta-monkey assumes the same pose as its base tower, even if that upgrade for the tower never makes that pose. This is most noticeable with the True Sun God.