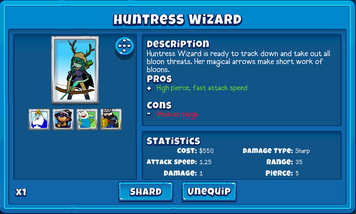 Huntress Wizard (from Adventure Time) is a Super Rare ally in Bloons Adventure Time TD that costs $550 to place.She uses her magical bow to pop bloons.
Huntress Wizard can be found in mostly through Super Rare wish orbs (very rarely in Rare and Epic wish orbs).
"Huntress Wizard is ready to track down and take out all bloon threats. Her magical arrows make short work of bloons."
Hunters Instinct, $300: Huntress Wizard can see camo bloons.
Enchanted Arrows, $500: Arrows do increased damage.
Multishot, $1,200: Fires 3 arrows at once per shot.
High pierce, fast attack speed
Medium range
Community content is available under
CC-BY-SA
unless otherwise noted.