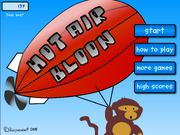 In Hot Air Bloon you have to pop as many bloons as you can without crashing into an obstacle. The goal is to pop as many bloons as you can while trying to beat your personal best or set a new high score. It's similar to an old helicopter game where one must not hit the walls. However, instead of distance, your score is the amount of bloons you pop.
Obstacles
Edit
Roof - The height limit
Cloud - Sticks down from the ceiling
Tree - Protrudes from the ground
Crow - Targets wherever you were when it appeared
How to Play
Edit
Click and hold the mouse to rise, let go to float down. Popping a Bloon gives you one point.
It is a bloons version of the popular helicopter game.
The game can be somehow ironic as you're using a bloon to pop other bloons.
If you crash, the game will display the message: "You crashed! (don't worry the monkey is safe)"
When you go to the instructions, you see a hot air bloon with a score of 1024.
The bloons in the game are from the original Bloons.
You are flying what appears to resemble a M.O.A.B., despite the main menu showing you riding what resembles a B.F.B.
The monkey on the blimp appears in Bloons Monkey City Mobile as Blimp Monkey.