Not enough images!
There are not enough images on this page to sufficiently complete this page or section. You can help by expanding it by uploading some images related to the article's subject(s).
| | | |
| --- | --- | --- |
| " | Spiked Mines cost reduced by 1500. | " |
| | ~ "Hi-Value Mines" description in BTD6 | |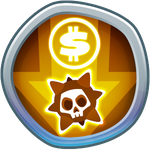 Hi-Value Mines is an upgrade in the Support Monkey Knowledge Tree that was first introduced intial release. It allows the Spiked Mines upgrade to cost $1500 less regardless of game modes. Hi-Value Mines requires Very Shreddy before unlocking this upgrade, as well as 8 Knowledge Points purchased into the Magic MK Tree before being able to be purchased. There is a one-off purchase of

500 before unlocking for the first time.
Prices
[
]
The following are prices for the Spiked Mines upgrade with and without the effect of Hi-Value Mines:
Tower
MK
Easy
Medium
Hard
Impoppable
Spiked Mines upgrade
$8,075
$9,500
$10,260
$11,400
$6,575
$8,000
$8,760
$9,900
Full 4-0-0 Spiked Mines
$TBA
$14,200
$TBA
$TBA
$TBA
$12,700
$13,840
$TBA
Tips
[
]
It makes it easier to afford Spiked Mines alongside extra defense on Deflation Mode.
Trivia
[
]
Hi-Value Mines provides the greatest flat price decrease out of all MK available in the game.