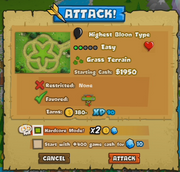 Hardcore Mode is a special difficulty added to Bloons Monkey City on 21 February 2014. It slightly increases Bloon speed, and increases the size of bloon rushes. It also makes upgrades cost as much as they would during Hard difficulty. Bloons give .1 less cash for every pop in the first 15 rounds unlike during normal mode. Winning on Hardcore Mode grants double City Cash, and, if No Lives Lost, 10 Bloonstones.
Tips
Enable this mode on easier tiles, will provide decent City Cash and extra Bloonstones more easily.
Enabling this on some Impoppable and Very Hard tiles will be frustrating for unprepared players, spawning difficult bloons very early.
This mode allows players to "farm" bloonstones on easy and trivial maps. It is very good to farm bloonstones.
If you are planning to get a lot of bloonstones(such as 500) then you should enable hardcore mode. It would reduce the time having to get all the bloonstones.
Trivia
This mode sometimes mkes Regrowth Red Bloons appear, even though they are no different from regular reds.