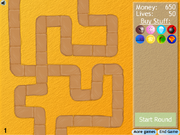 The Hard Track is a track from the second Bloons TD game, Bloons Tower Defense 2. It is one of the 3 tracks in Bloons TD 2, all a different difficulty. This one, as the title suggests, is the Hard Difficulty track. The player is started out with 650 Money and 50 Lives. Also, all the towers, upgrades, and road items are more expensive than they are in the other 2 tracks.
The track consists of 2 overlapping paths, of which the bloons follow. This track is the only track in Bloons Tower Defense 2 with multiple paths.
Strategies
[
]
Main article:

Hard Track (BTD2)/Strategies
Trivia
[
]
This is the only track in BTD2 that has 2 entrances and 2 exits, as well as the first track in any BTD game to have more than 1 entrance and exit.
See Also
[
]
Tracks/Maps in the Classic Bloons TD Generation
For all tracks/maps in the Bloons TD series, see Tracks.