For the Bloons Adventure Time TD difficulty, see Extreme Difficulty (BATTD).
Extreme Difficulty is a Track Difficulty added to Bloons TD 5 on April 4, 2012. In order to play on any difficulty, Monkey Money must be paid. When the player completes the Track, they will receive a large amount of Awesome Points and a massive XP reward instead of Monkey Money (unless you are playing on Deluxe). Interim saves are disabled for Extreme Difficulty tracks.
The icons for the three difficulties are the Sniper Monkey with Point Five Oh upgrade, the Ray of Doom and the Sun God/Temple of The Monkey God head, respectively.
In BTD4, Extreme Difficulty tracks are simply marked as extremely difficult tracks, and fortunately do not cost anything to enter.
In BTD6, there does not exist Extreme Difficulty, although the harder sets of Expert Difficulty Maps are considered "Extreme" to some extent.
Tracks
[
]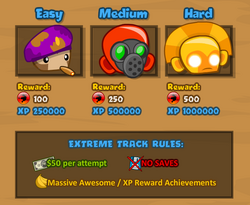 Currently, 5 Bloons TD 4 and 4 Bloons TD 5 Extreme Difficulty (one of them is added in and is exclusive to Bloons TD 5 Mobile) tracks exist:
Bloons TD 4:
Bloons TD 5:
Rewards
[
]
Track
Attempt Costs
Reward on Easy
Reward on Medium
Reward on Hard
Reward on Impoppable
Main Street
25 (50 for mobile)
100,000 XP
50, 900 or 6
250,000 XP
125, 1,200 or 7
500,000 XP
250, 1,800 or 8
TBA XP
9
Bloontonium Lab
50
250,000 XP (500,000 for mobile)
100, 900 or TBA
500,000 XP (1,000,000 for mobile)
250, 1,200 or TBA
1,000,000 XP (1,500,000 for mobile)
500, 1,800 or TBA
TBA XP
TBA
Tar Pits
50
300,000 XP
150 or TBA
700,000 XP
300 or TBA
1,500,000 XP
600 or TBA
TBA XP
TBA
Toxic Waste
50
100,000 XP
5
250,000 XP
6
500,000 XP
8
TBA XP
9
---
Note: Monkey Money rewards are exclusive to Deluxe, while Awesome Points awards are for the online version only. Also note that Impoppable Difficulty and Tokens are only available at BTD5 Mobile and BTD5 Steam.There's also a very unfair division of rewards, as the shown there are only for computer version, while mobile version has lower rewards (50 000/100 000/150 000/200 000 XP) for difficulties: Easy/Normal/Hard/Impoppable.
Trivia
[
]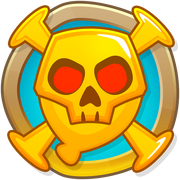 Because Bloons Tower Defense 5 Mobile uses an autosave system, saving can be done on Extreme Difficulty tracks.
This is the only difficulty that doesn't give Monkey Money rewards and actually costs Monkey Money to play.
You cannot enable Fast-Track Mode on Extreme Tracks, possibly because it would make the achievements easier.
In Bloons TD 5 Mobile, while selecting the difficulty for an Extreme track, the usual Baby Monkey, Mortar Tower, Robo-Monkey, and Green Sun God icons are used rather than the Point Five Oh, Ray of Doom, and Sun God icons.
In Bloons TD 5 iOS, the player could access Sandbox Mode. However, the player still had to pay the 50 fee to access an Extreme Difficulty track.

As of version 1.1, the player cannot play Sandbox Mode on Extreme Tracks, so it possibly was a glitch.

These Tracks have to be unlocked at a certain Rank before playing (50 for Main Street, 55 for Bloontonium Lab, and 60 for Tar Pits).
On Bloons TD 5 Deluxe, Monkey Money is rewarded. However, they still require Monkey Money to play.
In Bloons Tower Defense 5, all the extreme tracks have multiple paths.
This is the hardest track difficulty in Bloons TD 5.
Although BTD6 does not have Extreme Difficulty in the game, there exists an icon for Extreme Difficulty in the game files.
Tracks/Maps in the Bloons TD Series