Arbitrary Definition
This article defines a wiki-made category or definition to help organize knowledge of the game. As such, it does not necessarily reflect how Ninja Kiwi, or other players potentially consider the topic.
Under construction
This page is currently under construction. Please bear with us while our editors improve the page.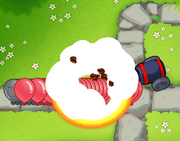 Extra Damage is an attack behavior characterized by dealing more than one damage per hit to a specific type of bloons. It is part of the damage types family.
Extra Damage is represented on Bloons Wiki as
, the upgrade icon for Heavy Bombs in Bloons TD 6, which appears like a lead pound weight, depicting the impact of extra damage in a physical form. Extra Damage is distinguished from Contact Damage
, which involves re-hitting the same bloon more than once with the same projectile, and Spray

, which utilizes multiple projectiles to cause more than one damage. Simply speaking, a projectile, whether or not it can apply contact damage or if the attack has multiple projectiles or sub-attacks, must deal more than one damage per hit excluding vulnerability sources for an attack to be tagged with Extra Damage. Typical examples with Extra Damage include Heavy Bombs, Arcane Blast, Bloon Buster, Crossbow.
There are many subsets of Extra Damage, added on top of Extra Damage if the attack does extra damage to that bloon type. Because of this, it's possible for 1 tower to do Extra Damage to more than 1 bloon type. (e.g. Spiked Balls deals 2 damage, +3 to Ceramics and +1 to Fortified, so it is marked with Extra Damage
, Extra Damage to Ceramics
, and Extra Damage to Fortified

). The list of these subsets are:
There is also Percentage Damage

for types of damage that affect bloons on a percentage basis, even if capped with a specific condition. Grand Saboteur ability removes 25% health from incoming blimps regardless of conditions, but prior to the Version 27.0 secret nerf to Unstable Concoction said upgrade capped percentage damage at Round 150.
Most attacks require an upgrade to deal more than one damage per hit. Sniper Monkeys are a classic example that always has Extra Damage as part of its attacks.
All bloons damaged by an attack are vulnerable to Extra Damage except the BTD6 Golden Bloon, as it will always take 1 damage per hit regardless of any type of attack.
Damage Types in the Bloons TD games
Damage
Elements
Popping
Types of
Attack

Tower
Action
And
Behavior

Method
Style of
Attack

Zone · Single Projectile · Area of Effect

(

Partial Area of Effect · Laserbeam

)

· Spray

(

Orbital Spray · Straight Spray · Angular Spray · Shotgun Spray · Rotational Spray

)

· Snipe · On-Track · Spike Pile · Deploy Sub-Tower · Create Sea Mine ·

Range
Target
Lives

Retaliation · Vengeance ·

Revival

Bloon Progress
Secondary

Attack
Behavior

Initiation
Secondary
Pierce
Damage

No Damage · Extra Damage

(

...to Ceramics · ...to Blimps · ...to Fortified · ...to Camos ·

Template:Extra Damage to Regrows

...to Regrows

·

Template:Extra Damage to Frozen

...to Frozen

·

Template:Extra Damage to Shields

...to Shields

·

Template:Extra Damage to Zombies

...to Zombies

·

Template:Extra Damage to Ghosts

...to Ghosts

· ...to Leads · ...to Stunned · ...to Harmed · ...to Bosses

)

· Percentage Damage · Downgrade Layer · Instakill

(

Instakill Blimp · Red Bloon Transform

)

· Critical Hits

Tower Buffs
Income
and Lives

Bonus Income

(

Bonus Income Per Pop

)

· Bonus Lives · Heal Lives ·

Drain Lives

Tower-Specific

Targets Tower(s) · Tower Buff · Sacrifice

(

Farm Sacrifice

)

· Charge · Influence

Secondary

Undead Movement · Contact Damage · Burst

(

Shrapnel

)

· Squeeze · Trap

Misc.

RNG

Status
Effect

Damage-Over-Time

Burn

(

Burn (blimps)

)

· Acid · Corrosive Glue · Dissolver Glue · Liquefying Glue · Solver Glue · Laser Shock · Bloon Bleed · Shred

Stuns,
Slowdown, and
Knockback
Disability

Debuff · Brittle · Grow Blocked · Trojan · MOAB Hex

Property-Stripping

Decamo

(

Universal Decamo · Bloon-Only Decamo

)

· Degrow · Defortify

(

Defortify (blimps)

)

· Cleansing

Secondary Effect
Miscellaneous

Standard Glue · Radioactive · Gold · Convert Lead Into Gold ·

Template:SoulLoss

Soul Loss