| | | |
| --- | --- | --- |
| " | Reduces ability cooldowns everywhere by 20%. while in radius, heroes earn XP 50% faster and water Monkey ability cooldowns are halved. | " |
| | ~ Upgrade description in BTD6. | |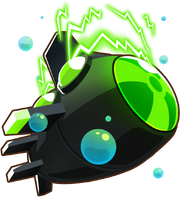 The Energizer is the final upgrade of Path 1 for the Monkey Sub in BTD6. It makes Heroes earn XP 50% faster, reduces cooldowns of all water Monkeys in the radius by 50% (doesn't stack with Bloontonium Reactor), as well as reducing ability cooldowns for ALL other towers on screen by 20%. It also increases the pierce of the Bloontonium Reactor from 70 to 1000 and the damage from 1 to 3.
Update History (BTD6)
Edit
2.0
Energizer now pops more bloons (30 --> 1000)
Energizer also reduces ability cooldowns of all other towers on screen by 20%.
7.0
Energizer radiation deals more damage per pop (1 --> 3)
9.0
Now (correctly) applies bonus XP to Heroes.
The description used to be "Hero earns XP 50% faster while in Energizer's radius. Cooldowns for abilities of water Monkeys in the radius are halved." but has changed due to the changes in Version 2.0.0.
The increased Cooldown reduction for Water monkeys also applies to any tower placed on the Carrier Flagship.
When crosspathed with upgrades on the bottom path, two guns appear on the bottom of the Energizer.
Community content is available under
CC-BY-SA
unless otherwise noted.