For the BMC difficulty, see Easy Difficulty (BMC).
| | | |
| --- | --- | --- |
| " | On Easy, towers cost less than normal, the bloons move a little slower, and you have 200 lives. Winning in Easy rewards you a bronze medal for that track. | " |
| | ~ Description in BTD5 when mouse scrolls over the Easy Difficulty icon | |
Easy Difficulty is one of the three difficulties in the Bloons Tower Defense 2-6 ever since Bloons TD 2. On Easy, towers are cheapest compared to Medium and Hard, and the player has, traditionally, double the lives as compared to Hard, with 200 lives, medium with 150 lives and hard with 100 lives (with 100 lives on Easy, 75 lives on Medium and 50 lives on Hard in BTD2-3). The player must pass 50 Rounds in Easy Difficulty in all BTD games from BTD2 to BTD6 in order to be awarded a Bronze Medal, but in BTD6 they only have to pass 40 rounds, or beat the first Massive Ornary Air Blimp (M.O.A.B.). Towers cost 85% of the price as in Medium Difficulty. In Easy Difficulty in Bloons TD 5, bloons also move slightly slower than bloons in Medium Difficulty. Many players use the Easy Difficulty for the short time it takes to get to Freeplay Mode, or for beginners starting the game. When in Freeplay Mode for Bloons TD 5, playing on easy means that, even though you get XP slower, you would get it much easier than in freeplay for medium or hard.
In Bloons TD 4 and Bloons TD 4 Expansion, easy difficulty has 50 Rounds that must be passed for the player to be awarded a Bronze Medal.
Just like all the games before it in Bloons TD 5, the player must pass Round 50 in order to win on easy difficulty. The Bloons move slower than on Medium mode or on Hard mode, and the player has 200 lives.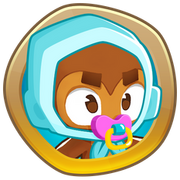 In Bloons TD 6, the player must pass Round 40, which is the first round with a MOAB bloon in order to win. The player has 200 lives just like BTD5, but starting with $650. Bloons move slower, towers cost 15% cheaper, MOAB-class are slightly weaker (although not mentioned in the description for Easy Difficulty), and the rounds start from Round 1.
There are also two variations based on Easy Difficulty which are:
In Bloons TD 4, BTD5 and BTD6, the Easy icon depicts a baby monkey. However, on BTD5 Extreme Tracks, it is represented by a Sniper Monkey with the Point Five Oh upgrade.

Of course, no beginner would even reach the Extreme Tracks, and large experience and determination in the game is needed to complete any difficulty of the Extreme Tracks.

This difficulty is unique in BTD5, because it makes the bloons slower.
In BTD5 and BTD6, this is the only difficulty icon that is not the face of an actual tower in the game.
Community content is available under
CC-BY-SA
unless otherwise noted.