Double Cash is a Premium Upgrade for Bloons TD 4 and Bloons TD 5. It costs

24 in BTD4 or

95 before it was removed from BTD5's Premium Store. In the Android and iOS versions of BTD5, it currently costs $9.99 USD in real-world money and cannot be purchased with in-game currency. This mode can be toggled on or off in the premium upgrades store. It doubles the player's starting cash to $1,300, as well as doubling all cash earned for popping bloons during the game. The cash income earned in-between rounds is also doubled, but income from Banana Farm and other income sources is not doubled (except in the mobile versions).
This particular premium is very advantageous because the payout makes Road Spikes less worthless (still will lose money unless the player has Tack Awesomizer), opens up some more room for error, and makes it easier to get powerful towers like the Super Monkey.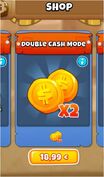 In BTD5 Deluxe, it costs

7,500 to fully unlock it. It costs

500 as a one-use powerup in both BTD5 Flash and BTD5 Mobile. In Bloons TD 5 Deluxe, it is available as a toggle on/off option when selecting difficulty. However, high scores are not recorded if Double Cash is used. Also, you will not receive an achievement for beating a map with Double Cash activated, only Monkey Money and a medal. However, in Bloons TD 5 Steam, you have no consequence for using it.
In BTD6, this upgrade makes a return. It costs $17.99 USD (SGD $24.99, 18.99€) in BTD6. However, like in BTD5 Flash, cash gained from extra income sources such as Farms aren't doubled. Do note that Double Cash Mode will always be turned off during C.H.I.M.P.S. and Races as it takes away the whole point of the game mode and it would be considered unfair, respectively.
Community content is available under
CC-BY-SA
unless otherwise noted.