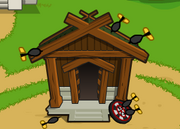 Dart Training Facility
is the
Specialty Building
for the
Dart Monkey
. It costs

500 to initially purchase and increases
Boomerang Thrower
cost and upgrades by 5%. It costs

1750 to fully upgrade unless, on mobile devices, it will cost

2950.

In BTD5 iOS, despite saying that it will attack 10% faster, it will actually attack 50% faster.
In BTD5 iOS, there is a random mission called "Precision Pineapple," in which where you can only pop lead bloons with Pineapples. However, if you have the Dart Training Facility activated with Level 4, clearing the mission is possible if you have any Dart Monkeys included, making Pineapples useless.
This is one of the few buildings that you can purchase for 500, the other ones being Tack Research Center and Spikes R Us.
Activating a Dart Training Facility will make 1/3 Dart Monkeys on Medium as cheap as they would be if Dart Monkeys had Monkey Knowledge Packs of Rank 2 Monkey Tycoon and Rank 1 Dart Monkey in Bloons Monkey City, even though combined the upgrade lowering in BMC would only be 2% with a 3% stack. This is because of how low-cost Dart Monkeys are and that every cost amount (includes base costs and upgrade costs) is rounded up or down to the nearest 5. However, 2/3 Dart Monkeys are only $5 more expensive due to Enhanced Eyesight being $5 more expensive.
Community content is available under
CC-BY-SA
unless otherwise noted.