| | | |
| --- | --- | --- |
| | | This page is currently under construction. Please bear with us while our editors improve the page. |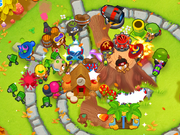 Damage Type is the type of damage a certain attack inflicts. There are 10 different types of non-passive damage type: Normal, Acid, Sharp, Explosion, Cold, Glacier, Shatter, Energy, Plasma, and Fire. Certain damage types can be granted lead-popping or camo detection, but all types can affect a different set of bloon types between: Black, White, Purple, Lead, and Frozen.
| Type | Normal | Black | White | Lead | Purple | Frozen | Shorthand |
| --- | --- | --- | --- | --- | --- | --- | --- |
| Normal | Yes | Yes | Yes | Yes | Yes | Yes | All |
| Acid | Yes | Yes | Yes | Yes | Yes | Yes | All |
| Fire | Yes | Yes | Yes | Yes | No | Yes | Not Purple |
| Plasma | Yes | Yes | Yes | Yes | No | Yes | Not Purple |
| Explosion | Yes | No | Yes | Yes | Yes | Yes | Not Black |
| Shatter | Yes | Yes | Yes | No | Yes | Yes | Not Lead |
| Glacier | Yes | Yes | No | No | Yes | Yes | Not White or Lead |
| Energy | Yes | Yes | Yes | No | No | Yes | Not Purple or Lead |
| Sharp | Yes | Yes | Yes | No | Yes | No | Not Lead or Frozen |
| Cold | Yes | Yes | No | No | Yes | No | Black and Purple |
| Passive | No | No | No | No | No | No | None |
Main Damage Types

The following are arranged in order of priority from "strongest" to "weakest". Stronger types are prioritized over weaker types, specifically when crosspathed or buffed by other towers.
Popping
Type of Attack
Status Effects
Below is a list of damage types, special popping powers, attack style, attack behavior, and status effects applied to each attack. The only major statistic measured is damage to bloons, and this does not take into account extra attack speed, pierce, or range (see the Advanced Popology series for specific additional statistics of each upgrade in list form). The list of each towers' damage statistics are shown below:
Note: This does not include specific descriptions of Tower Buffs or Income Generation, and will only merely mention their types of attack; please see their respective pages for a more specific guide on their respective mechanics. An attack is defined as a "tower's act of taking an effort to do something". If there is a noteworthy special crosspath interaction that is worthy to mention (more specifically: those that cause changes in damage type, projectile count, damage per projectile, status effects) it will be mentioned as a special case. For the sake of semi-completeness, any "attack" counts for the table.
Any attack that deals damage directly or indirectly is considered an attack, and excludes purely income attacks, with exception of purely income-based abilities, and Farm and Monkeyopolis bananas/crates. Explanations are listed below.
Passive buffs such as Village buffs, Carrier Flagship buffs, and Sub Commander buffs will be mentioned, although not mentioned in specific detail. All of them will be the Passive damage type. Assume passive buffs are only within range unless stated otherwise.
Efforted buffs (i.e. Alch buffs and Overclock/Ultraboost buffs) count as "attacks", but again addressed in very minimal detail. Like passive buffs, all efforted buffs will be the Passive damage type. Assume efforted buffs are only within range unless stated otherwise. Self-buffs are not considered an attack unless it affects more than itself.
Some but not all methods of specific income generation such as Farm bananas are considered "attacks" because they are actively done by the tower itself. All specifically money-generating abilities such as Jungle's Bounty, Supply Drop, and IMF Loan are all considered attacks, albeit passive ones, because they all take user-inputted effort to start the "attack". Auto-income generation methods such as end-of-round income (e.g. Merchantman, Monkey Wall Street) do not count, however, because they are not integrated into abilities. However, Trade Empire passive buff still counts, only because it possesses the Merchantmen damage buff, but the Central Market global passive buff does not because it's purely income-based.
Please see the other tables to look for buffs or income generation. Additionally, assume the listed upgrades do not take into account crosspathing or sacrifices; please see their respective upgrade pages for information about special crosspathing benefits.
Tower
Noteworthy Crosspathing Interaction(s)

Boomerang Monkey



0-5-2 Perma Charge
Gains +4 damage increase instead of +1 damage

2-0-4 MOAB Press and 2-0-5 MOAB Domination
Knockback Kylie knocks back 3 units per hit instead of 2

5-0-2 Glaive Lord
Deals +1 damage for the orbital glaive

Tier 1
Tier 2
Tier 3
Tier 4
Tier 5
Improved Rangs


Glaives


Glaive Ricochet


M.O.A.R. Glaives


Glaive Lord
Boomerang:



Orbital Glaive:




Faster Throwing


Faster Rangs


Bionic Boomerang



Turbo Charge
Non-Ability:



Ability:



Perma Charge
Non-Ability:



Ability:



Long Range Rangs


Red Hot Rangs



Kylie Boomerang



MOAB Press
Kylie:



Knockback Kylie:




MOAB Domination
Kylie:



Knockback Kylie:




Explosion:




Tower
Noteworthy Crosspathing Interaction(s)

Bomb Shooter



4-2-0 Bloon Impact
Frags now deal 2 damage per fragment but do not stun

5-2-0 Bloon Crush
Frags now deal 12 damage per fragment but do not stun

Tier 1
Tier 2
Tier 3
Tier 4
Tier 5
Bigger Bombs


Heavy Bombs



Really Big Bombs



Bloon Impact




Bloon Crush




Faster Reload


Missile Launcher


MOAB Mauler



MOAB Assassin
Explosion:



Assassin:



MOAB Eliminator
Explosion:



Assassin:



Extra Range


Frag Bombs
Explosion:


Fragments:

8x
Cluster Bombs
1° Bomb:


2° Bombs:

8x
Recursive Cluster
1° Bomb:


2° Bombs:

8x
3° Bombs:

8x
Bomb Blitz
1° Bomb:



2° Bombs:

8x

3° Bombs:

8x

Passive:



Tower
Noteworthy Crosspathing Interaction(s)

Tack Shooter

8x

4-0-x and 5-0-x Tack Shooter
Both Path 3 upgrades add +1 damage respectively instead of extra projectiles

Tier 1
Tier 2
Tier 3
Tier 4
Tier 5
Faster Shooting

8x
Even Faster Shooting

8x
Hot Shots

8x

Ring of Fire



Inferno Ring
Ring:



Meteor:




Meteor Explosion:




Long Range Tacks

8x
Super Range Tacks

8x
Blade Shooter

8x
Blade Maelstrom
Main:

8x
Ability:

2x
Super Maelstrom
Main:

8x

Ability:

4x

More Tacks

10x
Even More Tacks

12x
Tack Sprayer

16x
Overdrive

16x
The Tack Zone

32x
Tower
Noteworthy Crosspathing Interaction(s)

Ice Monkey




1-4-0 Snowstorm and 1-5-0 Absolute Zero
Permafrost effects can be inflicted by the ability

Tier 1
Tier 2
Tier 3
Tier 4
Tier 5
Permafrost



Metal Freeze




Ice Shards
Freeze:



Shards:

3x
Embrittlement
Freeze:





Shards:

3x
Super Brittle
Freeze:





Shards:

3x
Enhanced Freeze



Deep Freeze



Arctic Wind



Snowstorm
Blast:



Storm:*




Absolute Zero
Blast:



Storm:




Storm buff:


Larger Radius



Re-Freeze



Cryo Cannon




Icicles
Blast:




Icicles:




Icicle Impale
Blast:




Icicles:




Tower
Noteworthy Crosspathing Interaction(s)

Glue Gunner




2-0-5 Super Glue
Super Glue damage-over-time becomes 1 damage every 2.0s instead of 1 damage every 2.3s

2-x-x Glue
Glue effects last half as long on MOAB-class bloons regardless of which upgrades are bought

Tier 1
Tier 2
Tier 3
Tier 4
Tier 5
Glue Soak



Corrosive Glue



Bloon Dissolver



Bloon Liquefier



The Bloon Solver

2x

Bigger Globs



Glue Splatter



Glue Hose



Glue Strike
Gun:



Strike:




Glue Storm
Gun:



Strike:




Stickier Glue



Stronger Glue



MOAB Glue



Relentless Glue
Gun:



Track Blobs:



Super Glue
Gun:




Track Blobs:



Tower
Noteworthy Crosspathing Interaction(s)

Sniper Monkey




1-2-0 Sniper
Purchasing Full Metal Jacket converts shrapnel damage type from sharp to normal

2-2-0 Sniper
Damage of shrapnel is increases to 2

3-2-0 Sniper
Damage of shrapnel is increases 3

4-2-0 Sniper
Damage of shrapnel is increases 6

5-2-0 Sniper
Damage of shrapnel is increases 12

4-2-0 Maim MOAB and 5-2-0 Cripple MOAB
Shrapnel can stun and/or debuff MOAB-class bloons

0-2-4 Full Auto Rifle, x-4-x Supply Drop, and their higher upgrades
Only the bullet gains normal type; shrapnel remains sharp type

Tier 1
Tier 2
Tier 3
Tier 4
Tier 5
Full Metal Jacket



Large Calibre



Deadly Precision



Maim MOAB




Cripple MOAB




Night Vision Goggles




Shrapnel Shot
Bullet:




Shrapnel:



Bouncing Bullet
Bullet:




Shrapnel:



Supply Drop
Bullet:




Shrapnel:



Crate:


Elite Sniper
Bullet:




Shrapnel:



Crate:


Sniper Buff:


Fast Firing



Even Faster Firing



Semi-Automatic



Full Auto Rifle



Elite Defender



Tower
Noteworthy Crosspathing Interaction(s)

Monkey Sub



4-2-0 Reactor and 5-2-0 Energizer
Deals +1 damage to Lead while submerged

2-3-0 Ballistic Missile
Missiles gain global range instead of limited range. Unless given camo detection, the missiles can't hit camo at all, even if another tower within an area of the map has camo.

Tier 1
Tier 2
Tier 3
Tier 4
Tier 5
Longer Range


Advanced Intel


Submerge and Support
Dart:


Submerge:




Bloontonium Reactor
Dart:


Submerge:




Reactor Buff:


Energizer
Dart:


Submerge:





Reactor Buff:


Energizer Buff:


Barbed Darts


Heat-Tipped Darts


Ballistic Missile
Dart:


Missile:



First Strike Capability
Dart:


Missile:



Strike Hit:




Strike Explosion:




Pre-Emptive Strike
Dart:


Missile:



Strike Hit:




Strike Explosion:




Pre-Emptive:



Twin Guns


Airburst Darts
Main:


Airburst:

3x
Triple Guns
Main:


Airburst:

3x
Armor Piercing Darts
Main:



Airburst:

3x

Sub Commander
Main:



Airburst:

3x

Commander Buff:


Tower
Noteworthy Crosspathing Interaction(s)

Monkey Buccaneer

1-2

2-1-0 Boat and 2-2-0 Boat
Projectile count for grapes increases by double, for 10 grapes instead of 5.

Tier 1
Tier 2
Tier 3
Tier 4
Tier 5
Faster Shooting

1-2
Double Shot

2x 1-2
Destroyer

2x 1-2
Aircraft Carrier
In addition to Destroyer:
Ace Front Darts:

2x 3
Ace Radial Darts:

8x 3
Missiles:

3x

Carrier Flagship
In addition to Destroyer:
Same except
Ace Front Darts:

3

Ace Radial Darts:

8x 3

Missiles:

3

Carrier Buff:


Grape Shot
Dart:
1-2

Grapes:

5x 1-2
Hot Shot
Dart:
1-2

Grape:

5x 1-2

Cannon Ship
Dart:

1-2
Grape:

5x 1-2

Bomb:
1-2

Fragments:

8x
Monkey Pirates
Everything from Hot Shot plus:
Bomb:

3x 1-2

Fragments:

8x
Hook:


Pirate Lord
Everything from Hot Shot plus:
Bomb:

3x 1-2

Fragments:

8x
Hook:

3x
Long Range

1-2
Crow's Nest


1-2
Merchantman


1-2
Favored Trades


1-2
Trade Empire


1-2

Trade Strength:


Tower
Noteworthy Crosspathing Interaction(s)

Monkey Ace

8x

2-0-4 Spectre and 2-0-5 Flying Fortress
Does not gain extra projectiles with Lots More Darts; instead, gains +25% pierce for the dart attacks.

Tier 1
Tier 2
Tier 3
Tier 4
Tier 5
Rapid Fire

8x
Lots More Darts

12x
Fighter Plane
Darts:

12x
Missiles:

2x

Operation: Dart Storm
Darts:

16x

Missiles:

2x

Sky Shredder

32x
Missiles:

2x

Exploding Pineapple
Darts:

8x
Pineapples:


Spy Plane
Darts:


8x
Pineapples:



Bomber Ace
Darts:


8x
Bombs:


4x

Ground Zero
Darts:


8x
Bombs:


4x

Nuke:




Tsar Bomba
Darts:


8x
Bombs:


4x

Nuke:





Sharper Darts

8x
Centered Path

8x
Neva-Miss Targeting

8x
Spectre
Dart:



Shell:



Flying Fortress
Dart:

3x

Shell:

3x

Tower
Noteworthy Crosspathing Interaction(s)

Heli Pilot

2x

0-1-3 MOAB Shove
Shove effects are greater (-33% --> -44% for MOABs, 0% --> -11% for BFBs, and 33% --> 22% for ZOMGs)

1-0-4 Comanche Defense and above
Adds +2 dart projectiles to each mini-Comanche

Tier 1
Tier 2
Tier 3
Tier 4
Tier 5
Quad Darts

4x
Pursuit

4x
Razor Rotors
Darts:

4x
Rotor:


Apache Dartship
Darts:

4x
Rotor:


Machine Gun:


Missile:

4x

Apache Prime
Lasers:

4x

Rotor:



Machine Gun:



Missile:

4x

Bigger Jets

2x
IFR


2x
Downdraft
Darts:


2x
Downdraft:*




Support Chinook
Everything from Downdraft plus:
Pickup:


Crates:


Special Poperations
Everything from Support Chinook plus:
Place Marine:

Marine:




Faster Darts

2x
Faster Firing

2x
MOAB Shove
Darts:

2x
Shove:*



Comanche Defense
Base Darts:

2x
Shove:*



Mini-Darts

3x 1-3
Mini-Missiles:

1x 1-3

Comanche Commander
Base Darts:

2x

Shove:*



Mini-Darts

3x3

Mini-Missiles:

3x3

Tower
Noteworthy Crosspathing Interaction(s)

Mortar Monkey



3-0-2 Shell Shock
Burny Stuff damage increased damage to 2 damage every 1.5s

4-0-2 The Big One
Burny Stuff damage increased damage to 3 damage every 1.5s

5-0-2 The Biggest One
Burny Stuff damage increased damage to 25 damage every 1.5s

Tier 1
Tier 2
Tier 3
Tier 4
Tier 5
Bigger Blast


Bloon Buster



Shell Shock
Main Explosion:



Shockwave:



The Big One
Main Explosion:



Shockwave:



The Biggest One
Main Explosion:



Shockwave:




Faster Reload


Rapid Reload


Heavy Shells



Artillery Battery



Pop and Awe
Main:



Ability:





Increased Accuracy


Burny Stuff



Signal Flare




Shattering Shells




Blooncineration
Explosion:





Firewall: