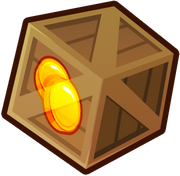 Cash Drops is a Power in BTD6 that gives $2500 in-game cash for one game. They cost

200 to purchase. Note that the money provided in Half Cash is only $1250, as all forms of income including Cash Drops is halved.
Purchase from the Powers store. Costs 200 each, or 180 if when the "Budget Cash Drops" Monkey Knowledge unlocked and enabled.
Treasure Chest reward Cash Drops.
Daily Challenges that reward Cash Drops.
Try to use Cash Drops sparingly as they are rather expensive.
Cash Drops provide a powerful early game lead and can easily be used to build up defenses if there are weaknesses to certain bloons.
Notably, this power is often used in Co-Op Mode due to the slow distribution of cash given so it can help boost a single player to buying more defense. A "No Cash Drops" co-op emote is available in the Trophy Store.
Cash Drops can be also be collected via Monkey Farmers.
In the initial release of the game, Cash Drops that were left alone would expire after approximately 15 seconds and then provide roughly $625,000,000 in-game cash. This bug/exploit has since been patched and the reason for occurring is unknown, but most likely is caused by a duplicate multiplication of "2500".
Cash Drops replaced Cash Injection in BTD5 and BTD4.
When using a Cash Drop, a Cash Drop will drop from a parachute, accompanied by the humming of a non-visible Monkey Ace.
In a blog post, Ninja Kiwi revealed that the Cash Drop is the most-used power in the game by far, with over 90 million total uses, compared to the ~40 million of Road Spikes.
Community content is available under
CC-BY-SA
unless otherwise noted.