For the type of tower/bloon cards in Card Battles, see Card Battles.
Cards is one of the 17 tracks in Bloons Tower Defense Battles and Bloons Tower Defense Battles iOS .
Overview
[
]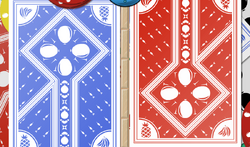 Cards is a track that is based on two playing cards, hence the name. It is relatively short in length so rushing bloons is a lot easier to accomplish here compared to other maps. There is a red and blue playing card which face opposite ways. The bloons come in from the right line at the top on the red card and the left line on the bottom on the blue cards. Bloons sent by opponents come in from the diagonal line coming from the left side on the blue card and right side on the red card. There is no water on this track.
Tracks/Maps in the Bloons TD Series