For the bloon in BTD4 and BTD5, see Camo Bloon.
The
Camouflage Bloon
is a new type of bloon that is in the game
Bloons 2
. Its transparency continuously changes and the player can only pop a Camouflage Bloon when it is visible, adding a neat variant to normal Bloons gameplay.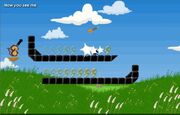 The Camouflage Bloon in
Bloons 2
first appears in the
Sneak Peaks
levels.
It is speculated to be based off the Camo Bloon in Bloons Tower Defense 4. The BTD4 Camo Bloon cannot be seen without the proper upgrades to certain towers. It contains 2 Pink Bloons.

The Bloons 2 camo bloon, however, can be seen by the dart monkey, but only when it is visible. If it is about 90% of being totally invisible, or more, it can't be hit by anything.

Even when it is frozen by the Ice Bloon, it will still disappear.
It is often confused with BTD4 and BTD5's Camo Bloon.