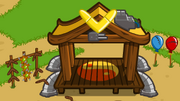 Boomerang Dojo is a Specialty Building for the Boomerang Thrower. It costs

750 to purchase it and increases the cost of Dart Monkeys and its upgrades by 5%.
Quite effective for regular Glaive Throwers and Bionic Boomers, when as the boomerang is doing its second loop, another is thrown making it 2 boomerangs always be making a loop at some given times.
As it increases Dart Monkey prices it can be a hinderence in early rounds if one relies heavily on Dart Monkeys in the early game or is a relatively new player.

However this may be the most useful of all of these buildings because of the fact that it only increases the cost of Dart Monkeys.

If the Boomerang or Glaive leaves the screen and goes too far out, it won't do the second loop even if it doesn't reach its maximum pop count.
Using it with the Double-Ranga (PC) or 4 upgrade of the Boomerang Dojo (Mobile) can make a Bionic Boomer around 4x as powerful
You can see cracked blue and red bloons next to the building.
Community content is available under
CC-BY-SA
unless otherwise noted.