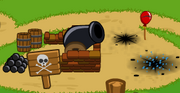 Bombing Range is a Specialty Building for the Bomb Tower. It costs

750 to purchase it and increases the cost of Spike Factories and its upgrades by 5%.

Initial cost is 750
Second upgrade costs 750
Third upgrade costs 1000
(Bloons TD 5 iOS only) Fourth upgrade costs 1200 (gives the Bomb Tower an ability that doubles up to 10 Bomb Towers' ranges temporarily)
Disadvantage: Increases the cost of Spike Factories by 5%
Despite being a Specialty Building, the Bombing Range, like the Mortar Emplacement, does not include an actual building unlike other Specialty Buildings.
The third tier of Bombing Range has no additional advantage over second tier for Bomb Towers with the Bloon Impact upgrade.
There is a shattered Lead Bloon where the scorch mark is.
The fourth upgrade used to stack with other abilities in an old version, meaning you could give your bomb towers infinite range. The projectile can only travel so far, however.
Community content is available under
CC-BY-SA
unless otherwise noted.