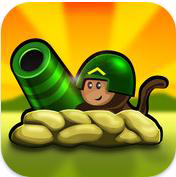 Bloons Tower Defense 4 (iPhone/iPod Touch) is Bloons TD 4 for the iPhone and iPod Touch. The icon has the Mortar Tower on it. The iPhone/iPod Touch version of Bloons TD 4 is very similar to the online, Flash version of the game, and has the same choice of towers, the same upgrades, and the same ranking system. You can also save your game without a Ninja Kiwi account (formerly MochiGames) Unlike the Flash version, you can save your game DURING freeplay mode, so you can exit freeplay mode and still continue from the last round finished.
On the Main Menu screen, there is a Sun God Temple that shoots light balls out of its eyes when lightning strikes it. When you press any of the tabs (Play Game, Options, Help, and About) the screen moves to the right for about 3 seconds.
On the 17th of May, 2012, they added the Beekeeper in an update, which you can unlock for popping 2 million bloons. It does exactly as it does in Bloons TD 5 but it has upgrades and is not a Special Agent.
On some holidays, there are new tracks based on that holiday, and when you place towers on that track, they change their appearance based on the holiday (i.e.
Dart Monkey
to a zombie on Halloween, or a
Spike Factory
to a present on Christmas). There are currently 3 holiday tracks:
Tannenbaum
and
Milk 'n' Cookies
for Christmas, and
Trick or Treat
for Halloween.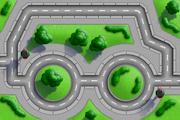 As of November 2019, the Android version has been pulled from the Play Store due to being incompatible with the newer phone models.[1]
References
Edit
↑ https://ninjakiwi.com/blog/news/173357-what-s-up-at-ninja-kiwi-6th-december-2019

"
Why was BTD4 pulled from the Play Store? Are you planning on putting it back?
Sadly, BTD4 just wasn't compatible with newer phones so we have no plans on bringing it back at this stage.
"
~ Sav and Tarn
Community content is available under
CC-BY-SA
unless otherwise noted.