| | | |
| --- | --- | --- |
| " | Move the Bloons around to create a match of three. Plan your moves carefully to create immense combos! | " |
| | ~ Offical Description | |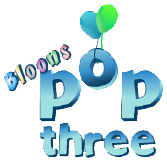 Bloons Pop 3 is a game in which bloons must be swapped to assemble a line of 3 to 8 same-color bloons. The lines must be vertical or horizontal to count, and the bloons will switch vertically and horizontally, but not diagonally. The game ends when no more macthes can be made. Combos are possible. Combos can also give a high score multiplier. (Each match made in a combo doubles the multiplier, which peaks at X32) You can buy hints when you have at least 200 points. It is not very popular but it's still fun and enjoyable, and some can't stop playing even if they lose.
After earning 200 points, you will have unlimited hints, even if you lose all of them afterwards. This glitch hasn't been patched yet.
No Bloons Pop 1 or Bloons Pop 2 games exist, so Bloons Pop 3's title doesn't mean that it is a 3rd version of the game. The title is probably derived from the game's task, as you should pop at least 3 bloons in a line on the game.
This is the only Bloons game to feature an orange bloon.
This also the only Bloons game to feature a popcorn bloon.