Under construction
This page is currently under construction. Please bear with us while our editors improve the page.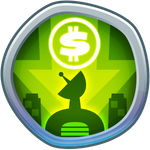 Advanced Logistics is one of the final upgrades in the Military Monkey Knowledge Tree, along with Cross the Streams, Military Conscription, Door Gunner, and Big Bloon Sabotage. When activated, it will reduce the base costs of all Military Monkeys by 5%. It requires Aeronautic Subsidy unlocked, and requires 14 points purchased into the skill tree before speccing into, along with

1000 as a one-off purchase.
Prices
[
]
The following are prices for each Military Monkey under the effect of Advanced Logistics:
And below is when both Advanced Logistics and Military Conscription are in effect:
Strategy
[
]
Although 5% base cost discount may look insignificant, this MK combined with Military Conscription can save a lot of money for the early-game, especially for the Heli Pilot and Dartling Gunner, as well as for Monkey Buccaneers towards the income-generating Merchantman upgrade.
Version History
[
]
Probably not meant to directly nerf it, but it did get nerfed while fitting in the Door Gunner MK.
17.0
Advanced Logistics now requires Door Gunner instead of Charged Chinooks. Players who purchased Advanced Logistics prior to the update will still keep it.
Trivia
[
]
Before Version 24.0, a Dartling Gunner with Advanced Logistics costs the same as it does in BTD5, at $950 on Medium. This is because the Dartling Gunner's default base cost was $1000 on Medium. This is no longer true, because the Dartling Gunner got a base cost buff.