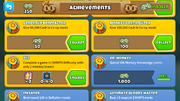 | | | |
| --- | --- | --- |
| " | Complete a game in CHIMPS Difficulty with only 2 monkey towers | " |
| | ~ BTD6 | |
2TC is an achievement in BTD6, introduced in Version 12.0. It can be achieved by completing CHIMPS Mode with only two towers. Earning this achievement will reward 2 Monkey Knowledge Points and a 0-4-0 Wizard Monkey. The achievement remains invisible until the achievement is completed, as it is one of many hidden achievements in the game.
Strategy
[
]
2TC requires precise strategy by selecting two different towers that can beat all stages of the game. Firstly, the first tower (and therefore starting tower) much be purchasable in the first round with $650. Secondly, the second tower must be strong enough in combination with the second tower to combat the early-game weaknesses and possess enough firepower with its intermediate tiers and final tiers to counter the mid-game and late-game. Usually, the late-game will be the most difficult part of this challenge, but occasionally the beginning can be very difficult too. And lastly, 2TC should be done on a Beginner Map for the best results; 2TC on Intermediate Maps is entirely possible but never recommended.
The first roadblock comes from choosing the right starting tower, which for $650 cannot offer much. Getting through the early-game can also be an issue, but not as problematic as the first few rounds. Beating key rounds such as Round 24's Camo Green, Round 25's Purples, Round 28's Leads, and Round 40's MOAB are among many roadblocks during the early-game.
The second roadblock is getting through the mid-game with the intermediate tiers. Some combos may be very powerful in combination once their highest tiers are afforded but cannot be practically done due to both towers having insufficient firepower to handle the mid-game prior to those higher tiers. Most of the time, this specific problem comes from attempting to beat Round 63, but sometimes Round 76 can be the source of the trouble. For purposes of completing the achievement and not for trying to challenge oneself in special 2TC challenges, assume non-hero towers are bought to their maximum as soon as possible and heroes are never manually upgraded until the other non-hero tower is max tier.
The third and final roadblock is affording those highest tiers of tower and using the final duo to beat Rounds 81 to 100 without need of additional support. Round 98 and Round 99 are normally the most difficult aspects of 2TC for almost all combos due to providing two distinct extremes; Round 98 requires effective counters to hyperdense rounds with Fortified BFBs and ZOMGs, and Round 99 requires quickly damaging Fortified DDTs as soon as they arrive, which combined provide the majority of the roadblocks in 2TC. Ability timing is very important, if the duo contains activated abilities. Round 100 is the final round to watch out for looking ahead, as the BAD is full of health and needs to be destroyed with pure single-target damage.
Certain heroes and Tier 5 upgrades are designed in such the way that makes them perfect for 2TC. Sauda is notably the single-best 2TC hero in the game, followed by Captain Churchill. As for Tier 5 upgrades, Prince of Darkness, Wizard Lord Phoenix, the 5-2-0 Sky Shredder, the 5-2-0 Apache Prime, and the 5-2-0 Ray of Doom are among the most suitable options in 2TC for many reasons, many of which have combos of their own when combined with many other powerful towers in the game. For purposes of completing the achievement, 2TC combos with Sauda and a maximally upgraded tower below ~$100,000 will normally be the easiest to try out.
Tips
[
]
The community-made record of 2TC completions can be found here. It can be useful to refer to if attempting this challenge.
For the best results, attempt this achievement on the map Logs. The sheer length of the map and the various wide corners make it very handy to catch bloons partway through the entire track. This is especially the case for Rounds 95, 98, and 99.
The easiest 2TC combos are usually those with Sauda. Some of these combos are very easy to pull off, with the easiest being Sauda + Apache Prime. Some ability timings may be necessary to destroy the later rounds, but other than that it should be easy to do.
Specific loadouts
[
]
Most information here is mostly oriented for players wanting to attempt advanced 2TC combos, rather than focusing on earning the achievement.
Near-solo
[
]
"Near-solo" in this context refers to nearly soloing 2TC when given a tower that can counter obvious weaknesses.
There are a certain number of towers in 2TC combos that can solo all Camo Bloon rounds as long as it is given another tower to handle other bloons:
There are a certain number of towers in 2TC combos that can almost fully solo late-game when given a way to counter obvious weaknesses in earlier rounds:
"Perfect" combos
[
]
"Perfect" combos are 2TC combos that synergize with each other so well that the combination of the two flawlessly beat all stages of the game.
Bugs
[
]
It used to be possible to complete the 2TC CHIMPS achievement by completing a Challenge Editor challenge with Round 1 to 1 CHIMPS Mode with only two towers. The same bug also affected other achievements that were released on Version 12.0. This bug was fixed in Version 12.1.
In version 12.1, there's a bug that prevents gaining this achievement by using a Wizard Lord Phoenix (x-5-x Wizard) as one of the 2 towers. This was fixed as of Version 17.0.

This bug was caused by the game registering the phoenix as a separate tower.
Version History
[
]
Many nerfs and buffs have affected the ability of certain tower combinations to accomplish 2TC.
Gallery
[
]
Trivia
[
]
This achievement is based on a popular challenge on BTD6 reddit where players would only use two unique towers to beat CHIMPS mode, which is considered to be very hard as some combos need hours to complete which may require precise usage of ability and/or luck for the towers to hit the bloons.
The first recorded completion was 5-0-2 Energizer + 2-5-0 The Anti-Bloon in Version 2.1, when super ceramics gave extra cash. It became impossible due to the bugfix in 4.0, then became possible again in 25.0 and gained a downgrade from Energizer to Bloontonium Reactor at the same time.

The next recorded completion was in Version 8.0.

As of 13 March 2021, there are 296 2TC combos, ignoring crosspathing.
In a single day on 16th December 2020, Captain Churchill gained 24 new 2TC consecutive combos with various towers, recorded in the BTD6 Index. One day before then, Captain Churchill had a combo with Monkey Pirates.
As of the Permaspike + Archmage combo (171st combo), which was achieved on 12th February 2021 (Link), all Tier 5 Wizard Monkeys have a 2TC with Apache Prime (9th latest, PoD), Sky Shredder (41st latest, Arch), Carrier Flagship (75th latest, PoD), Captain Churchill (84th latest, PoD), Tsar Bomba (87th latest, PoD, no longer possible), and M.A.D (120th latest, Arch).
With the completion of the Sauda + Plasma Monkey Fan Club combo, every possible maximum upgraded tower, excluding Heroes, the Sun Temple and the Flying Fortress have been used in at least one 2TC.
With the completion of the Sauda + Super Brittle combo, every type of tower (excluding Heroes) has been used in at least one 2TC, as Ice Monkey was the only non-hero tower type without a 2TC before that completion.
On 9th July 2021, the first completion of 1TC has been done, using Sauda to solo CHIMPS Mode on Resort. As a result, Sauda's 1TC completion has lead her to receive 33 associate 2TC combos, bringing her new total to 202 2TC combos. The added associated combos are:
Achievements in the Bloons and Bloons TD Series
BSM2
Red Blops
Trophies

Super Monkey

·

14K

·

Gold Standard

·

Solid Gold

·

Precious

·

Brilliant

· Flawless

Epic Powers
Research
Powerset Badges
Other
BMC
Land Capture
Bloon Popping
City Development

Feel the Power

·

Power Mad

·

Bling Worthy

·

Phat Stax

·

Whole Lotta Monkeys

·

City Developer

·

Monkey City King

·

New Frontiers

·

Track Master

·

City With Everything

MvM Attack/Defense

Bloon Science

·

Gimme that!

·

Extortionist

·

Sweet Revenge

·

Best Served Cold

·

Guardian

·

Epic Defender

·

Defender

·

You Shall Not Pass

·

Attack Run

·

Dark Dirigible Titan

City Honor

Red City Honor

·

Blue City Honor

·

Green City Honor

·

Yellow City Honor

·

Pink City Honor

·

Black City Honor

·

White City Honor

·

Zebra City Honor

·

Rainbow City Honor

·

Ceramic City Honor

·

MOAB City Honor

·

BFB City Honor

·

ZOMG City Honor

Contested Territory
Boss Bloons

Bane of Blastapopoulos

·

Bane of Bloonarius

·

Bane of Dreadbloon

·

Bane of Vortex

·

Blastapopoulos Perforator

·

Blastapopoulos Render

·

Blastapopoulos Piercer

·

Blastapopoulos Popper

·

Bloonarious Perforator

·

Bloonarius Render

·

Bloonarius Piercer

·

Bloonarius Popper

·

Vortex Perforator

·

Vortex Piercer

·

Vortex Render

·

Vortex Popper

·

Doom of the Armored Behemoth

·

Dreadbloon Perforator

·

Dreadbloon Render

·

Dreadbloon Piercer

·

Dreadbloon Popper

·

Boss Stomper

·

Boss Popper

·

Blastapopoulos Sarcophagus

·

Air Dervish Nemesis

·

Swamp Thing Nemesis
Bloons TD 6 Community Challenges
BTD6 Index Challenges
Miscellaneous Challenges
Challenges by TheShiftyNoodle28